Florida shooting: Students and #neveragain join gun fight
At school protest, teenagers brandished signs including one that read "NRA is a terrorist organisation".
Some students in Florida are taking on gun rights activists on Twitter and in real life in the wake of another US massacre.
The hashtag #NeverAgain has been trending and vocal students have demanded action.
At one school, just a few miles away from the latest horrific school shooting, students staged a walkout in solidarity with the victims and survivors campaigning effort for gun reform.
Furious with the inaction of politicians, some 50 teenage students gathered on Friday to voice their frustrations over the government's stubborn refusal to enact common sense gun laws and adequately protect young people at schools around the country.
The group brandished signs, including one reading "NRA [National Rifle Association] is a terrorist organisation", and sang chants as passing cars honked their horns in solidarity.
The students attend South Broward High School, located less than 30 miles down the Florida coast from Marjory Stoneman Douglas High School, where 17 people lost their lives.
In the immediate aftermath of the shooting, students who survived the attack demanded action on the issue of gun control in the United States.
One student said on Twitter, referencing a tweet from Donald Trump: "I don't want your condolences. Multiple of my fellow classmates are dead. Do something instead of sending prayers. Prayers won't fix this. But Gun control will prevent it from happening again."
The tweet was deleted after it quickly spread online.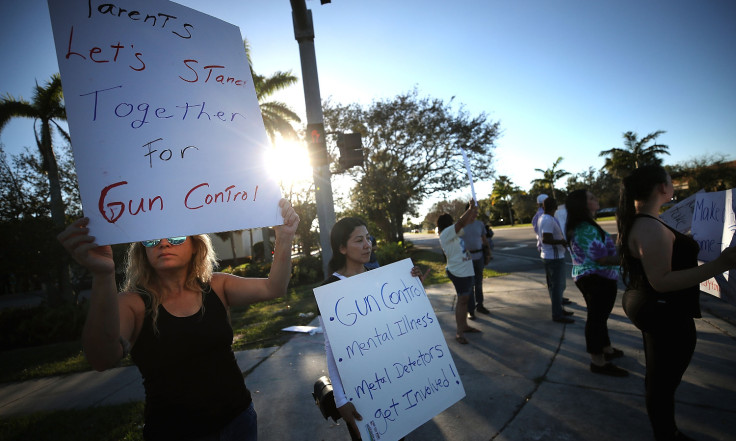 Other survivors had similar messages for politicians. David Hogg told CNN: "My message to lawmakers and Congress is: Please, take action. What we really need is action. We can say, 'We're gonna do all these things. Thoughts and prayers.' What we need more than that is action. Please."
Another student said: "A gun has killed 17 of my fellow classmates. A gun has traumatised my friends. My entire school, traumatised from this tragedy. This could have been prevented."
Among the students to stage a walkout at South Broward was 16-year-old Sara Rodriguez, who told Huffington Post: "I want to end gun violence. They don't pay attention to our voice and we're really tired of staying silent. We are the future. We're trying to make it but we can't do it if they're not listening."
Ianna Seemungal, 17, added: "We don't deserve this. We need to be safe. There's nowhere to be safe. ... We can't even go to school."
Social Media has been inundated with people young and old from around the world who have had enough. The hashtag #NeverAgain has been trending. Some of the tweets bearing the tag are embedded below.