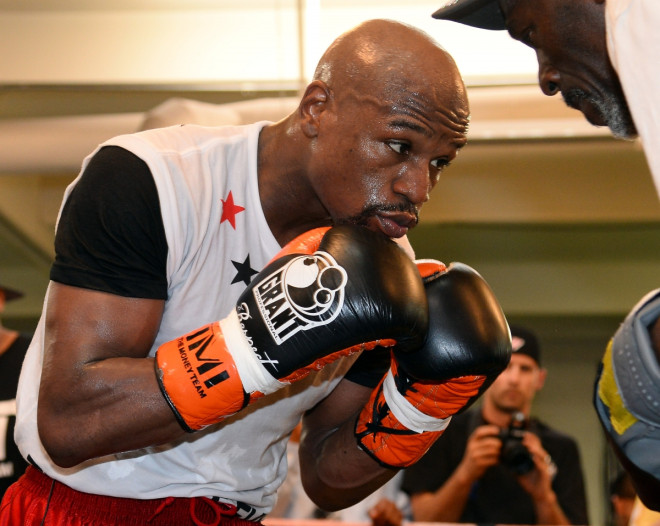 Floyd Mayweather Jr will travel to Amir Khan's hometown of Bolton next month as a potential match between the two edges closer to coming to fruition.
The pair have relentlessly circled one another for the past six months and the Brit thought he had secured what will be the biggest fight of his career earlier this year when he signed his part of a contract to meet the five weight world champion in May.
Khan shelved a December bout with Devon Alexander such was his confidence in striking a deal with the Mayweather camp but the American instead opted to face Marcos Maidana in Las Vegas last Saturday, where he further enhanced his spotless record with a majority decision victory over the Argentine.
But talk of a hotly anticipated meeting between the two will reach boiling point when Mayweather visits the Reebok Stadium, home of Khan's beloved Bolton Wanderers, as part of his tour of England in June.
The 37-year-old American, who pocketed $70m after securing a 46th career victory last Saturday, will speak at a £200-a-head sportsman dinner on 23 June at the football ground and Khan's camp have already shown their interest in booking a table.
"Floyd Mayweather Jr is going to walk into a building with is 'Money Team' in Amir Khan's backyard... I have to pinch myself that he's really coming over here," said Spencer Brown who brokered the deal on behalf of sports group EBF, Bolton News report.
"It's the stuff legends are made of.
"I'm sure it would be very interesting and would add spice to the night if Khan turns up – and we've already had enquiries from them (Khan's camp). It will be fantastic for Bolton anyway."
Khan's desire to dethrone Mayweather was reinforced by his comfortable victory over Luis Collazo on the undercard on Saturday. However, a meeting between the two may have to wait until next May if the champion is unwilling to break his May-September fight cycle due given the timing of Ramadan.
"I can't be ready for that date (in September). Ramadan doesn't finish until the end of July and I would need three months in training camp after that to prepare for a fight of this magnitude," Khan said.
"The earliest I can be back in the ring after my fight here is late October or early November and that will have to be against another opponent.
"I've told Floyd that and he assures me I'm still on his list. Of course I am still pursuing the fight with him but the next window for that is this time next year."