Follow LIVE coverage of Floyd Mayweather v Manny Pacquiao here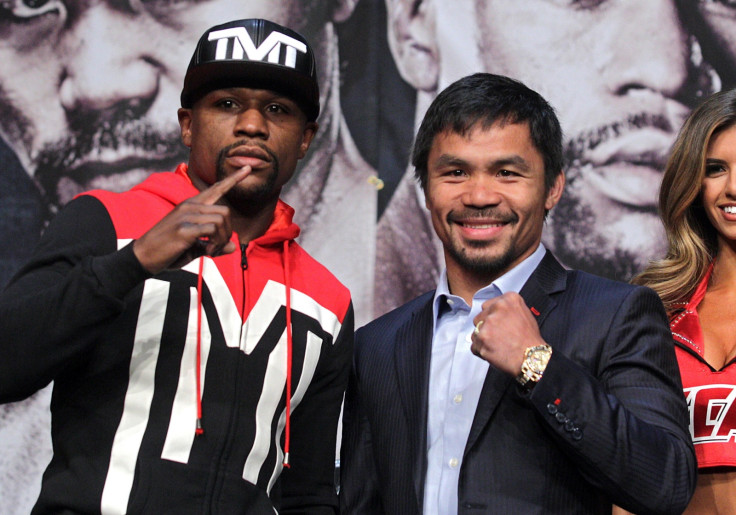 Manny Pacquiao's own ballad to be used as walk-on music
Already a boxer, actor and politician, Manny Pacquiao may as well add pop star to his CV. In a change of pace, the 36-year-old has composed his own song, Lalaban Ako Para Sa Filipino, which translates to I Fight for the Filipino People, that he will use as his walk-on music for the showdown tomorrow (2 May). It remains to be seen whether he will be crooning along as he makes his way to the ring.
Pacquiao has also this week released his special pre-fight playlist on Spotify, which obviously kicks off with Eye of the Tiger.
Weigh-in tickets at huge mark up
People were initially aghast to learn that tickets for the Mayweather v Pacquiao weigh-in would cost $10. Such events are almost always free of charge in Las Vegas. People lightened up a bit when it was learned the proceeds of ticket sales would be going to a charity of each boxer's choice – the Susan B Komen for the Cure foundation for Mayweather and the Cleveland Clinic Lou Ruvo Center for Brain Health for Pacquiao.
Many of those tickets have now hit the secondary markets. As of Wednesday, tickets to see the pair face-to-face for the final time before the fight were being sold for as much as $554.29 (£365, €492), with a minimum price a cool $200.
Mayweather complaints over Pacquiao's groin protector
Ahead of the weigh in, team Mayweather has raised an issue over the groin protector Pacquiao plans to wear tomorrow. Inside the Mayweather camp, it is believed the protector, which the Filipino also wore in his victory over Oscar de La Hoya, was too high on his waistline and protected his his naval, something which they believe will prevent the unbeaten American from landing telling body blows. Leonard Ellerbe, CEO of Mayweather Promotions, brought the issue to the Nevada Athletic Commission, which promptly waved away such concerns.
Undercard confirmed, what exactly will we be watching?
This time last year when Marcos Maidana attempted to dethrone the welterweight king, the card was packed with genuinely exciting fights, including Amir Khan v Luis Collazo and Adrien Broner v Carlos Molina preceding the main event. This time around, there will be just two televised undercard fights, WBC super-bantamweight champion Leo Santa Cruz v Jose Cayetano and WBO featherweight champion Vasyl Lomachenko v Gamalier Rodriguez. The first of those is scheduled to start at 2:15am (BST) with the second to immediately follow. Expect the evening to be padded out with lots and lots of montages.
Roach complains over Mayweather glove issue
Another of the formalities for this was for both fighters (well, maybe not them personally) to deliver their gloves for the fight to the commission for inspection. Pacquiao's gloves arrived on time, but Mayweather's didn't, much to the annoyance of Pacquiao's cornerman Freddie Roach, who was eager to inspect the padding. "Their gloves are handmade," Roach said. "I just want to make sure the weight is fair, but his gloves haven't showed up yet."
Mayweather will know all about such demands, having briefly threatened to pull out of last May's battle with Maidana after claiming there was not enough padding in the Argentine's gloves.