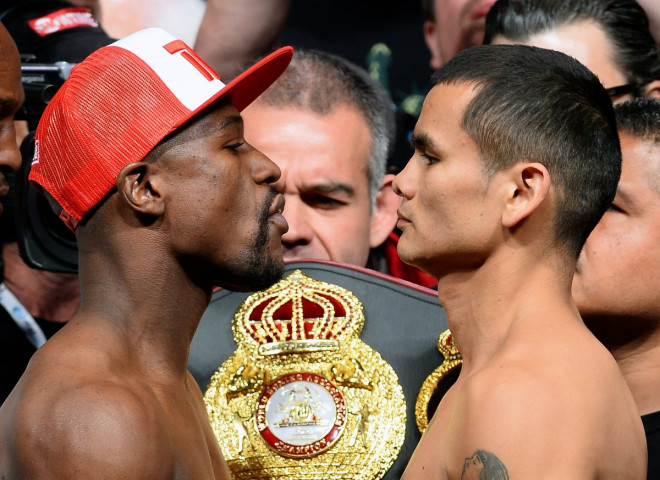 Having propelled himself into contention with an overpowering victory over Adrien Broner last December, Marcos Maidana stands as the next man to attempt and dethrone the best pound for pound fighter in boxing in Floyd Mayweather Jr.
Where to Watch:
Mayweather v Maidana is available live on BoxNation on Sky channel 437 and online at LiveSport.TV. Details of how to subscribe to BoxNation are available here. The card gets underway Saturday night/Sunday morning at midnight (BST) with the main event scheduled for 4:00am (subject to change).
Preview:
After suffering defeat to Devon Alexander in an uncomfortable first fight at welterweight just over two years ago, Maidana's has since emphatically positioned himself in the upper echelons of the division.
Three consecutive victories – two by technical knockout and the other a clean KO over Martin Angel Martinez – drew nods of approval, but it was a victory over the self-appointed heir to Mayweather's throne last December that propelled him into the frame for tonight's meeting. Adrien Broner was dropped twice by the vicious Argentine who humbled his ostentatious opponent and justifiably placed his name on the shortlist for the unbeaten American's next challenger.
Of course he wasn't the only one on it. Amir Khan, who takes on Luis Collazo on the undercard, saw himself as next in line and the prospect of a Las Vegas showdown between himself and Mayweather was reinforced when the Bolton-born fighter signed his part of the deal and comfortably beat Maidana in an online poll to determine the 37-year-old's next opponent.
However two wins, one over Carlos Molina in a total mismatch and a far from convincing triumph over Jullio Diaz in Sheffield last April, were not enough for Khan to seal what would have been his biggest ever pay day. That chances of that happening later this year seem almost a certainty however after the Brit linked up with Al Haymon while a win over Collazo will push him further into the equation.
Maidana's chances of dethroning boxing's longest serving king will largely rest on the sheer power the knock out specialist possesses, but even the fight of his life may not be enough to see him match Mayweather. But after almost a year of incessant clamouring for the spot as rightful number one contender amongst welterweights, it seems fair to say that Maidana is the most deserving of Saturday's shot than most. Whether he will get the opportunity to land some in the ring remains to be seen.
For more on Maidana's rise, take a look at our biography of tonight's challenger here.
What They've Said:
Floyd Mayweather: "I can't just say he's going to be an easy fight because he's not going to be an easy fight for me, I don't think so. What I have to do is I've got to make sure that I'm at my best.
"I think when Maidana's facing me his confidence is built after he beat Adrien Broner because he feels that both of the styles are very, very similar, so it's like the same style.
"So May 3 I've got to go out there and take my time, keep my composure and be me. Everybody thinks he's just going to be a pushover, but I don't think so. That's why I'm training hard and I'm pushing myself to the limit every day," he said.
Marcos Maidana:
"It's very important to land the combos and keep at him.
"I'm prepared for whatever he brings. If he wants to trade blows, we'll trade blows. If he wants to run, we can handle that, too. We're prepared for everything.
"I'm relaxed. We're good. I talk a little trash because it gets me mad, gets me ready."
Records:
Mayweather: 45-0 - 26 knock outs
Last three fights
(W) Saul Alvarez by majority decision, September 2013
(W) Robert Guerrero by unanimous decision, May 2013
(W) Miguel Cotto by unanimous decision, May 2012
Maidana: 35-3 - 31 knock outs
Last three fights
(W) Adrien Broner by unanimous decision, December 2013
(W) Josesito Lopez by technical knock out, June 2013
(W) Martin Angel Martinez by knock out, December 2012
Rest of the Card:
Adonis Stevenson v Andrzej Fonfara
Juan Manuel Marquez v Mike Alvarado
Chris Arreola v Bermane Stiverme
Martin Gethin v Derry Mathews
Adrien Broner v Carlos Molina
Amir Khan v Luis Collazo