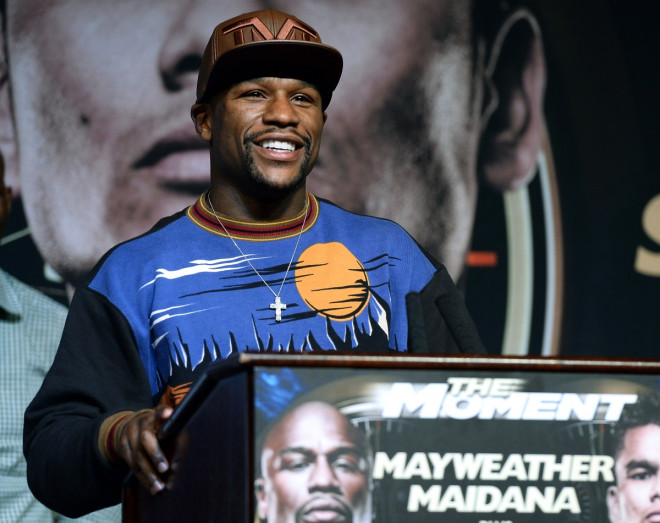 Floyd Mayweather Jr is ready to spurn potential bouts with Manny Pacquiao and Amir Khan and retire after fighting Marcos Maidana in Las Vegas this weekend.
The American takes on Argentine Maidana in the 46th fight of his professional career hoping to protect his unbeaten record and claim the WBA and WBC welterweight world titles.
Mayweather Jr has long been linked with future meetings with both Pacquiao and Khan, who he overlooked for his latest duel on 3 May, but has continued the build-up for his latest contest with the thinly veiled notion he could hang up his gloves after this weekend.
"I'm contemplating everyday getting out the sport now," said Mayweather. "I'm very, very comfortable. It's not really hard for me to get up when I get to the boxing gym, it's just getting to the gym. I go into my garages and think, do I want to drive you, you, you or you.
"[But my motivation] is fighting for legacy because when you mention boxing all I want you to mention is Floyd Mayweather. That's what I'm here to do. When my career is over I don't want you talking about nobody else."
The undercard at the MGM Grand Hotel sees Khan's return to action against Luis Collazo, 13 months on from his last bout where he hopes victory will secure a meeting with Mayweather Jr later in 2014.
However, the Brit is already considering other options including taking on Pacquiao, who himself is searching for a bout with Mayweather Jr.
"It can happen, definitely it can happen," said Khan on the possibility of fighting Pacquiao.
"I mean, we are friends, but like I've said sometimes friends have to fight each other. I mean, Manny's a great fighter, but if it makes sense taking that fight, then why not?
"I want to fight the best people out there so if that means Manny's one of them and it could happen, then why not? It can definitely happen."