Floyd Mayweather v Manny Pacquiao tickets will finally go on sale at 8pm BST on 23 April just nine days before the eagerly anticipated bout at the MGM Grand in Las Vegas on 2 May.
A dispute between the fight's co-promoters Mayweather Promotions and Top Rank and the MGM Grand over corporate tickets forced the delay, before an agreement was signed between the three parties.
Despite the legendary Nevada venue having a capacity of 16,800, just 1,000 seats will go on sale to the public with the remainder of the tickets going to each fighter, the casino, sponsors and promoters.
"We resolved all of the issues and now we're waiting for the paperwork," Top Rank chief Bob Arum said. "I said on the call that if what we agreed upon is in the paperwork we receive, we will sign it and the tickets will be released."
Mayweather, unbeaten in 47 professional fights, added: "I don't worry about tickets, I worry about the guy in front of me. Manny Pacquiao that's my whole focus. Tickets is something I don't deal with."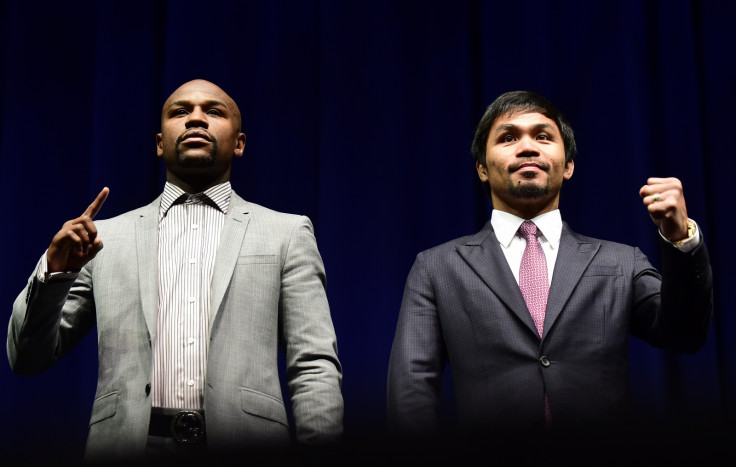 Mayweather v Pacquiao tickets on sale time
Tickets for the fight go on sale on Thursday 23 April at 8pm BST/3pm ET/12 pm PT.
Where to buy Mayweather v Pacquiao tickets
Fans will be able to purchase tickets from mgmgrand.com, ticketmaster.com or by calling 800-745-300 and are limited to four per person, though passes are expected to snapped up within minutes for a bout which is expected to gross $500m.
Mayweather v Pacquiao ticket prices
Ticket are priced at $10,000 (£6,663), $7,500 (£5,000), $5,000 (£3,300), $3,500 (£2,332), $2,500 (£1,665) and $1,500 (£1,000), though the top bracket will not be available for public purchase.
Mayweather v Pacquiao closed circuit tickets
For those fans unable to buy tickets for the MGM Grand, a number of venues will be screening the fight across Las Vegas.
The MGM, Bellagio, Aria, Vdara, The Signature, Mandalay Bay, Delano, Monte Carlo, Mirage, New York-New York, Luxor, Excalibur and Circus Circus will make up between 35,000 and 50,000 closed circuit seats in the city.
Tickets for the closed circuit viewings will go on sale on 23 April at 11pm BST/6pm ET/3pm PT by calling either 866-799-7711, 800-745-3000 or face-to-face at the individuals hotels' box offices. Buyers are limited to eight tickets per person.