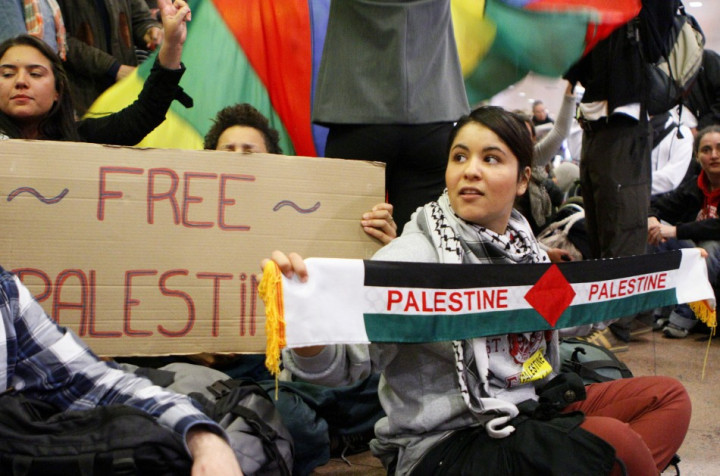 The list compiled by Israeli security service, the Shin Bet, to prevent pro-Palestinian activists from reaching Tel Aviv included 40 per cent of people who intended to do anything illegal, according to an Israeli high official.
The activists were expected to arrive at Ben Gurion airport in Tel Aviv as part of the 'flytilla' - a solidarity campaign called "Welcome to Palestine" - but Israel has vowed to prevent them from entering the country.
Haaretz newspaper reports that the Shin Bet had no proof that 460 of the 1,200 activists that Israel labelled as "pro-Palestinian activists" were to take part of demonstrations in the West Bank.
"We put people on the list who are as far removed from anti-Israel political activity as east is from west," one Foreign Ministry official told Haaretz. "We have insulted hundreds of foreign citizens because of suspicions, and have given the other side a victory on a silver platter."
Israeli security officials reportedly tracked the activists on social media sites such as Twitter and Facebook and compiled the blacklist. Then, they asked airlines to keep those on the list off flights to Israel.
Lufthansa airline cancelled the tickets of several activists who were supposed to fly to Tel Aviv on Sunday. "Dozens of passengers who bought a plane ticket to travel to Tel Aviv Sunday on April 15 were notified Thursday by the airline Lufthansa that their reservation was cancelled, 'by order of Israel'," reads a statement on the Welcome to Palestine's website.
Other airlines that cancelled the tickets were Air France, Alitalia, Easyjet and Turkish Airlines.
The companies cited Israeli threat of sanctions as the main reason for the cancellation.
Among the people on the blacklist were an employee of Italy's Communication ministry and a Dutch member of the board of directors of German pharmaceutical giant Merck.
Also a woman with Israeli citizenship was informed that she would not be allowed to reach her homeland.
For those who planned to reach Israel as part of "flytilla", the government sent a formal "welcome" letter.
"Dear activist, we appreciate your choosing to make Israel the object of your humanitarian concerns," the letter reads. "We know there were many other worthy choices. You could have chosen to protest the Syrian regime's daily savagery against its own people, which has claimed thousands of lives."
"You could have chosen to protest the Iranian regime's brutal crackdown on dissent and support of terrorism throughout the world. You could have chosen to protest Hamas rule in Gaza, where terror organizations commit a double war crime by firing rockets at civilians and hiding behind civilians.
"But instead you chose to protest against Israel, the Middle East's sole democracy, where women are equal, the press criticizes the government, human rights organizations can operate freely, religious freedom is protected for all and minorities do not live in fear.
The letter concludes: "Therefore we suggest to let you solve first the real problems of the region, and then come back and share with us your experience. Have a nice flight."
Around 100 activists managed to get in and travel to the West Bank, access to which is controlled by Israel, during the first "Welcome to Palestine" campaign in 2010.
Last year, however, Israel worked with airlines to prevent hundreds of activists from flying to Ben Gurion airport and detained and later deported others who managed to arrive.