American rock band Foo Fighters are tipped to announce their headline performance at Glastonbury 2017. Fans will welcome the news after the Best Of You hitmakers were forced to cancel their festival appearance in 2015 due to Dave Grohl's leg injury.
Fuelling the announcement rumours, some Foo Fighters fans have received fake boarding passes featuring the fictional Obelisk Airlines and the band's logo inside a pyramid with Grohl's signature. The check-in time on the ticket is listed as Tuesday 21 February at 6pm, prompting speculation that their Glastonbury slot will be confirmed tomorrow. The logo design may also allude to the Somerset festival's Pyramid Stage.
So far, British band Radiohead are the only announced headliners for the forthcoming instalment of Glastonbury. Earlier in February, festival organiser Emily Eavis said the next headliner would be revealed in March but teased there could be some news sooner.
The Worthy Farm festival fits perfectly into the Foo Fighters' touring schedule this summer, with the band playing five UK stadium dates in May and June. Glastonbury takes place between 21 and 25 June and with Radiohead claiming the Friday headline slot, Foo Fighters are free to take either the Saturday or Sunday.
The Foo Fighters were scheduled to headline Glastonbury 2015 alongside Kanye West and The Who. However, they were replaced with Florence And The Machine when Grohl, 48, broke his leg after falling off stage at a concert in Sweden. Expressing the band's disappointment at having to cancel the momentous gig, Foo Fighters drummer Taylor Hawkins previously told NME: "It was a bummer when we had to pull out the other year.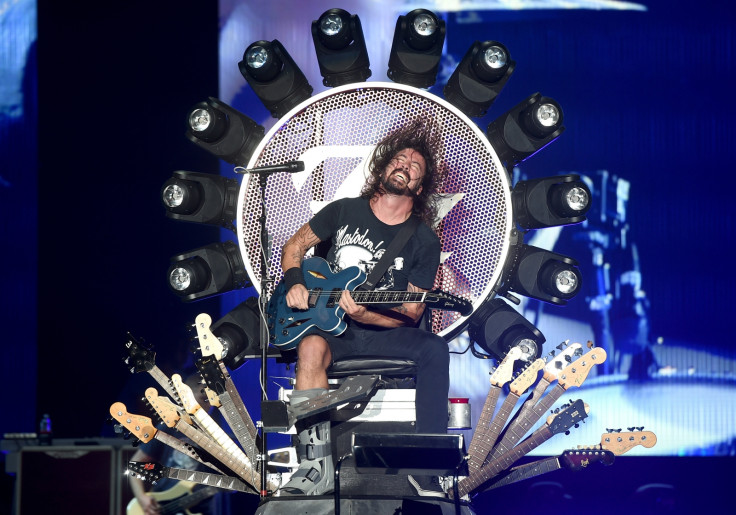 "I mean, Dave almost pulverized his entire f*****g leg – and missing Glastonbury was part of that bummer. We were excited to get out there and do our march through Wembley then Glastonbury headlining. We were set to pop, we were set to go and then Dave broke his leg like that it was a kick in the f*****g nuts."
The five-piece outfit, which also consists of Pat Smear, Nate Mendel and Chris Shiflett, released their most recent album, Sonic Highways, in 2014 and are believed to be currently working on the follow-up.