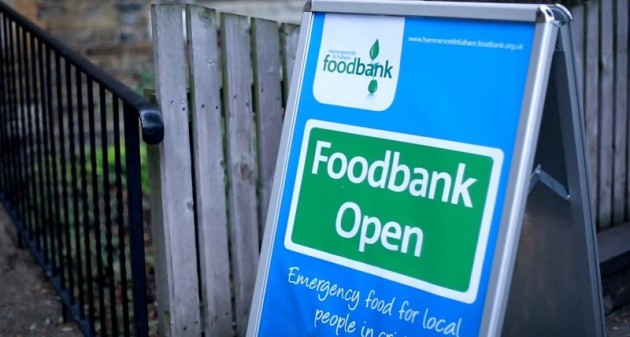 A peculiar, pale face peeked around the frame of the door. A small man immediately followed it and demanded food. The tone of his tired, exasperated voice turned the heads of all the volunteers - some inquisitive, others worried and one or two annoyed. Once he was skilfully deflated, the stranger tearfully outlined his dire situation: no job, mental health issues and in desperate need of nourishment. Another crisis, another day at the Hackney Food Bank.
The food bank's Stoke Newington distribution centre opens every Thursday at midday. The operation, beyond its kind helpers, relies on an interesting mix of 1950s engineering and old fashioned Christian good will. The offices of the food bank, including phones, folders and the odd leaflet, are crammed into a portacabin and food parcels are rationed out in St Matthias Church hall.
The operation is part of the Trussell Trust network, an ever-growing Christian group which partners with churches and communities to open new food banks to combat poverty and help people in trouble.
In total, 355,985 people received emergency packets from the charity's food banks between April and September 2013, compared to 113,264 between April and September 2012 - a spike Trades Unions Congress General Secretary Frances O'Grady calls "shocking" and demonstrative of people falling on hard times.
Clients, the organisation's corporate-speak for recipients, are given a food box. Each parcel contains a minimum of three days' nutritionally balanced, non-perishable food. A single recipient, for instance, will receive one ration of cereal, fish, biscuits fruit and rice pudding, among other things. The colourful allocation sheets increase in quantity recommendations the larger the family gets.
The system is underpinned by an important bureaucratic measure. Clients must have a valid food voucher, issued by a frontline care professional such as a doctor or social worker, in order to receive a food box. For many prospective recipients this little and otherwise inconsequential piece of red paper is the difference between filling their loved one's belly before bed or leaving them hungry.
Liza Cucco, a former Los Angeles-based set designer and now Hackney Food Bank project co-ordinator, explains what state people are usually in when they arrive at the site.
"People who come here are often at the end of their rope," she says. "Everything is stressful and unbearable, so people are coming in a lot of distress."
Cucco adds: "We want to give people one less thing to worry about so they can focus on what they need to accomplish. But if we do it for an indefinite amount of time, it doesn't encourage decisions to be made."
The clients are certainly well catered for. The distribution centre, which typically sees 20 clients per session, has a working kitchen manned by a trained chef. Thanks to this utility, visitors can enjoy a robust selection of meals, including beans on toast and scrambled eggs. Hardly à la carte dining, but wholesome all the same.
But do not presume food banks are confined to the down and outs, the dark, hidden bits of London's boom-town dream. They are popping-up in unexpected, affluent areas of the capital as well.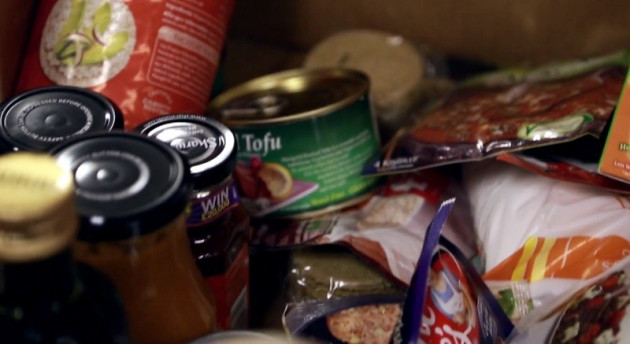 Across Town
The Hammersmith and Fulham food bank distribution centre, which opened in June 2010 and runs out of St Simon's church in Shepherds Bush, was much more popular than its Hackney counterpart when IBTimes UK visited.
The centre's volunteers typically see 20 to 40 people per week, but it must have been a particularly busy time when we visited because there were at least six clients enjoying a cup of tea as they waited for their parcels and discussed their varying issues with the food banks seemingly all female crew.
Daphine Aikens, project manager of Hammersmith and Fulham Food Bank, says she was seen has seen a large increase in the amount of clients coming to the distribution centres she runs.
"I think food banks are a vital importance," Aikens stresses. "I see too many people every day who say to me if they hadn't come to the food bank, they would've had nothing to eat."
Aikens argues that many people she sees have benefit problems and/or mental issues - bought on by stress. The figures compliment Aikens' claim. According to Trussell Trust, 65,177 people (19% of clients) were referred to distribution centres due to benefit changes between April and September 2013, compared to almost 14,897 (14%) in same period last year and 117,442 people (35%) were referred due to benefit delay, compared to 35,597 (33%) last year.
But the Department for Work and Pensions, the ministry that oversees the Job Centre, contends that people's claims are being dealt with swiftly. "Benefit processing times have steadily improved over the past few years," a spokesman says. "This year the number of benefits processed on time is up 4% from the 2009/10 level to 90%."
Unemployment is certainly an issue. The capital, with an 8.6% jobless rate, has a problem. Even for some in work, poverty is an omnipresent entity because of low wages and a lack of hours. According to the Resolution Foundation's Low Pay Britain 2013 report, for example, there are 4.8 million UK workers who earn below the Living Wage of £7.20 outside London and £8.30 in the capital.
Chris Goulden head of the Joseph Rowntree Foundation's poverty team, argues that there needs to be a more dynamic analysis of the problem to look at people flowing through the unemployment system and in and out of poverty.
"We have a very static picture of the system - we've got figures relating to unemployment at a fixed point in time," he explains. "That's replicated at the Job Centre where targets are very much about getting people off benefits, but they should be preventing claimants from cycling back through the system and getting people off benefit permanently."
Whatever the problem, whatever the solution, whatever the answer, food banks have become entrenched in modern Britain. Though growing media coverage may catalyse their growth, the vast majority of clients come to the distribution centres looking for a fill and not seeking to game the system. The voucher system ensures donors' food does not go to waste and the volunteers are street wise.
Of course, no system is impenetrable, but food banks seem to be meeting some people's dire needs in a sensible and steady way.