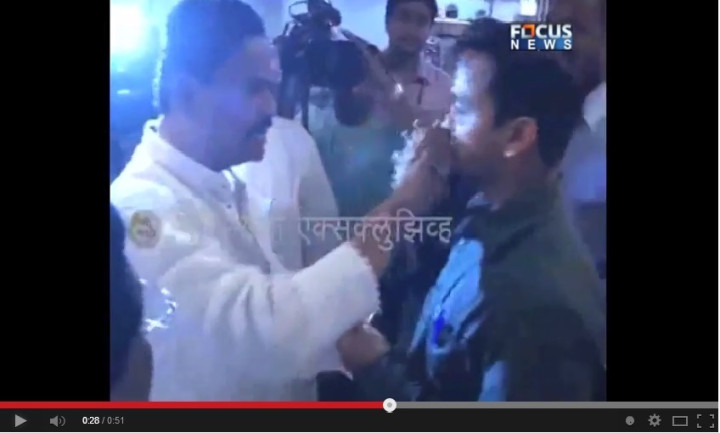 A group of Indian parliamentarians have been caught on camera allegedly trying to force food into the mouth of a Muslim catering staff who was observing the Ramadan fast.
The footage shows around 11 MPs from the Shiv Sena party, a powerful regional outfit in the western state of Maharashtra, trying to force feed the catering supervisor at an event in capital New Delhi last week.
The MPs were reportedly angry that they were not served traditional Maharashtrian food, the Indian Express reported.
The hardline Shiv Sena party is an ally of the Bharatiya Janata Party-led Narendra Modi government.
In footage aired across major TV channels in India, the politicians (Shiv Sainiks) are seen forcing Arshad Zubair S, the caterer on fast, to eat flat bread.
After the footage emerged, the Indian Railway Catering and Tourism Corporation (IRCTC), a subsidiary of the Indian Railways, protested against the incident and immediately cancelled its catering service. The food at the Maharashtra government's official guest house in Delhi, where the incident took place, was provided by the IRCTC.
In its written complaint to the Maharashtra Resident Commissioner, the IRCTC said that the employee had been "deeply pained and hurt... as religious sentiments are attached," Zee news reported.
Watch the video below:
The Shiv Sena MP, however, has defended himself saying he didn't know the religion of the caterer.
The force feeding incident has triggered massive criticism of the Shiv Sena party on Twitter. Many condemned the act as shameful and sad.
The Shiv Sena issue isn't just about religious bigotry. It's about taking the law into your own hands. Mob justice by MPs is unpardonable!

— Milind Deora (@milinddeora) July 23, 2014
Manhandling and force-feeding a working staff is unacceptable that too during his fast. Actions of Shiv Sena MPs are highly condemnable. — Wasim Ansari (@Itsak26) July 23, 2014
Hardly any difference left between elected members of parliament and bigoted ruffians in the street.Deplorable conduct of Shiv Sena MPs.

— S l Habib (@irfhabib) July 23, 2014
As a punishment those Shiv Sena MPs should be ordered to force feed that IIT Leopard.. — Mehran Zaidi (@mehranzaidi) July 23, 2014
ShivSena MPs act no less than inciting communal violence! Loksabha shd suspend or atleast censure thm! N file am FIR

— Ashwin Kumaraswamy (@ashwinkk) July 23, 2014
Why these shameless ppl are up roaring n disrupting Parliament. What's wrong wit shiv sena MPs cant they quietly ask for there taste of food — Achilles (@iamprs_) July 23, 2014
I am scared to call Shiv Sena MPs morons for forcing staffed to eat and break their fast.

— Anchal Agrawal (@Anchal3012) July 23, 2014
Shiv Sena MPs who force fed a Muslim man during Ramzan must be punished by being asked to eat food cooked by Uddhav Thackeray. — Troll Neta (@TrollNeta) July 23, 2014
Shiv Sena MPs should respect someone who is on Roza. A shameful incident of forcing bread into Rozadar's mouth and breaking his Fast.

— Saurabh Verma, Manul (@manulverma) July 23, 2014