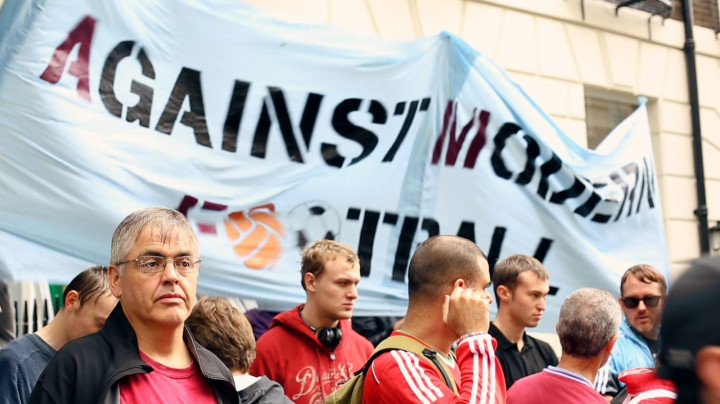 Disgruntled football fans gathered outside the Premier League headquarters as Malcolm Clarke, head of the Football Supporters Federation, met with Premier League chief executive Richard Scudamore to express the group's displeasure at the rising cost of ticket prices.
In the last decade, ticket prices have risen by 6.5% a year, which has left many fans believing they are being outpriced, with the cheapest average season ticket costing £526.
Scudamore had previously said he had no influence over ticket pricing but this didn't stop the supporters directing their frustration at him and the Premier League body.
"I think that over a period of time, football is slowly pricing people out of the game," one Sunderland supporter told IBTimes UK.
He added that clubs are targeting the wrong people to attend and that the game risks losing the raw passion from the "real" supporters.
"The Premier League will say that attendances are up but there are a different sort of people who are going nowadays," he said.
"Clubs are concentrating on attracting corporate sponsorships and selling hospitality boxes, rather than worrying about young children and families coming along to games."
One unhappy Liverpool fan says he can no longer go to matches, claiming it was down to the "hidden costs and the greed of the people at the top".
He told IBTimes UK: "You might look at Liverpool's website and see the price of tickets and the cost of a child ticket is £10.
"But I'd ask you to ring Liverpool FC to ask them specifically: 'Can I get this £10 ticket at the ticket office. I have the money in my pocket, can I go down there and buy the £10 ticket?'
"No, you can't. You've got to buy a membership - and not only that, your child has to be a member as well, and then you have to accompany your child and you have to pay for an adult-price ticket.
"I asked exactly how much this will cost me and Liverpool FC calmly said: 'It would cost you £102' - £51 each."
He added that Liverpool are in an extremely stable financial position after selling Luis Suarez to Barcelona for £75m – "so why can't this money go towards reducing ticket prices?"
"Suarez has just left, which is like winning the lottery - £75m and not one penny of that has filtered back into reducing ticket prices at Anfield," he said.
It wasn't just supporters of Premier League clubs who were there to express their dismay at the cost of tickets.
A fan of Watford, who ply their trade in the Championship, said every league is affected by ticket-price inflation.
He said: "I'm down here to protest about the prices in the Championship. There are five clubs in the Championship that are charging over £30 for an away ticket, which I think is wrong and outrageous."