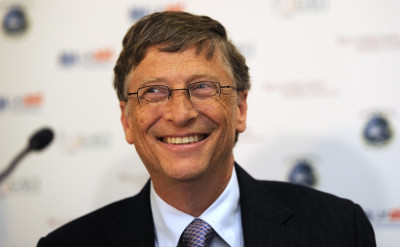 Microsoft Chairman Bill Gates continues to be America's wealthiest man for the 19th time with a fortune of $66bn (£40.7bn) as the ranks for the top five richest in the country remain unchanged from the previous year.
According to the Forbes list of 400 richest Americans, 82-year-old Warren Buffet came second with $46bn (£28.4bn) and Oracle's Larry Ellison stood third at $41bn (£25.3bn) .
Charles Koch, the head of Koch industries stood fourth along with his brother David Koch, the company's executive vice-president of chemical technology.
The combined net worth of America's richest rose 13 percent to $1.7tn (£1.05tn) from 2011 while the average net worth of the 400 billionaires has risen by a record 10 percent to $4.2bn (£2.5bn).
Two notable names from the previous top ten fell this year. Casino magnate Sheldon Adelson fell from the 8th position last year to the 12th this year while financier George Soros dropped to No 15.
Bloomberg founder Michael Bloomberg made it to the 10th spot.
New entrants in the list of 400 include Apple co-founder Steve Jobs' widow, Laurene Powell Jobs and Jack Dorsey, the co-founder of Twitter.
The number of women who have made it to the list also rose to 45 from 42 in the previous year, Forbes said.
Social media businessman Mark Zuckerberg failed make it to the top ranks.
Forbes reported that the social media businesses together lost $11bn this year.
Zuckerberg took the biggest hit, his net worth falling $9.4bn this year. The positions of Groupon chairman Eric Lefkofsky and Zynga Inc Chairman and CEO Mark Pincus also fell in the list
The collective net worth of the richest amounts to one-eighth of the total US economy, but the growth of the billionaires outdid the economic growth of the country.
"The gap between the very rich and merely rich increased and helped drive up the average net worth of The Forbes 400 members to an all-time record $4.2 billion," said Forbes Senior Wealth Editor Luisa Kroll.
"Only two in the top 20 are poorer, and as a group they are worth $73 billion more than a year ago."