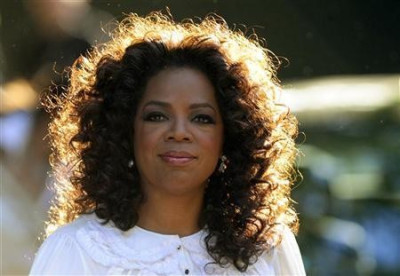 Women stars have dominated the top 10 of the 2013 edition of Forbes' Celebrity 100 power list.
American talk show queen Oprah Winfrey led the way after regaining her throne as the world's most powerful celebrity, after a two-year spell in second place.
The 59-year-old billionaire, who made $77m from 2012-13, knocked singer Jennifer Lopez off the top spot and into number 12, after a blockbuster year on TV, social media and in the press.
Winfrey was one of only three celebrities to feature on the prestigious list every year since its inception in 1999.
"She still wields an enormous amount of power, which is really what we look for in our fame matrix," said Forbes writer Dorothy Pomerantz.
"She is taking this cable network [Own] and turning it around just through the sheer force of her will, her connections and her ability."
Winfrey was joined by a roster of celebrity women. Lady Gaga confirmed her superstar status after ranking highest of all musicians on the list. She had to cancel a string of performances to have hip surgery earlier this year but still managed to rack up a staggering $80m in the last year.
According to Forbes, the 27-year-old star had her devoted fan following on social media to thank for her ranking.
Jay-Z's wife Beyoncé, aka Mrs Carter, came fourth, below film director Steven Spielberg - the only man in the top five. Beyoncés Super Bowl performance, Pepsi endorsement and her Mrs Carter tour all contributed to her placing.
Singer and actress Madonna came fifth and Taylor Swift made her top 10 debut at number six.
The Celebrity 100 measures money and fame, and how often each celebrity is mentioned in print and on TV. It also takes into account marketability and social networking strength across 11 social media platforms, including Facebook, Twitter and YouTube.
2013 Forbes Celebrity 100 Top 10 FULL LIST
1 Oprah Winfrey $77m (income this year)
2 Lady Gaga $80m
3 Steven Spielberg $100m
4 Beyoncé $53m
5 Madonna $125m
6 Taylor Swift $55m
7 Jon Bon Jovi $79m
8 Roger Federer $71m
9 Justin Bieber $58m
10 Ellen DeGeneres $56m