A former Pearl Jam drummer is furious over the band's induction into the Rock And Roll Hall Of Fame 2017. Dave Abbruzzese was disappointed to learn he has been snubbed from the forthcoming induction, despite claiming involvement in many of the band's successful years.
Pearl Jam, consisting of Eddie Vedder, Mike McCready and Stone Gossard, Jeff Ament and Matt Cameron, are set for induction into the Hall Of Fame in April 2017 alongside Tupac Shakur, Joan Baez, Journey, Yes and Electric Light Orchestra.
According to the Hall Of Fame rules on eligibility, a band member must have been active and present during the group's most influential recording years. Abbruzzese performed with the grunge band from 1991 until 1994 but is excluded from the induction despite Pearl Jam releasing their debut and two chart-topping albums during Abbruzzese's time with the band. He played on two huge-selling albums Vs and Vitalogy, and wrote three songs, Go, Last Exit and Angel during that period. He was sacked before Vitalogy was released in 1994.
Reacting to the snub, Abbruzzese posted a message from a friend via Facebook on 20 December, which read: "So... Rock & Roll Hall of F**ktardia. Ergh. It makes absolutely zero sense to me... I'm just gonna shove this statement up someone's arse."
In his own message, the drummer added: "I'm not sure how 275+ live shows and 38% of record sales doesn't fit their criteria... I may write more about this as time travels on... As for now, I look forward to sharing my first solo album with you all. Thank you for sharing your opinions & for your love & support."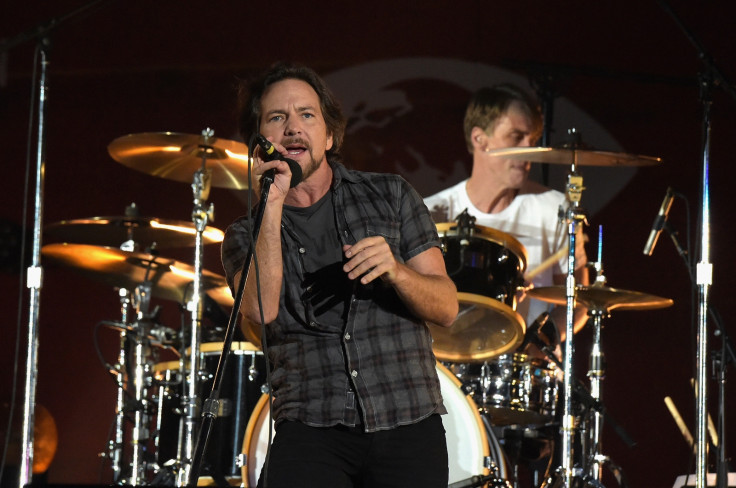 Many Pearl Jam fans were just as angry at the omission and one even started a petition on Change.org describing the snub as an "outrage". Abbruzzese responded to the petition, telling his Facebook followers: "Thank you for voicing your opinion about this wackiness... I am truly honoured that you and so many people have raised up and called it like you see it.
"It has me overwhelmed for sure, but support such as yours has really got me digging the Hall of Fame that I am currently in. It's the one where my friends and I are free to enjoy our time, our music and ourselves. It's the hall that doesn't charge 10's of thousands of dollars for a seat at the table."
Current members of Pearl Jam have not addressed Abbruzzese's absence from the induction but simply tweeted after the news was announced: "We are excited to announce Pearl Jam will be inducted into the @RockHall of Fame! #PearlJam #RockHall2017."