Reigning Formula One world champion Nico Rosberg has stunned the world of sport by announcing his retirement. The 31-year-old driver sensationally steps down just five days after clinching his maiden championship crown by finishing second behind Mercedes teammate Lewis Hamilton for the fourth race in succession at the Yas Marina Circuit in Abu Dhabi.
Such a result meant that Rosberg, under contract until the end of 2018 after signing a new two-year deal with the Silver Arrows in July, finished five points ahead of his long-time rival atop of the Drivers' Standings and successfully emulated the achievements of father and 1982 F1 champion Keke.
"Since 25 years in racing, it has been my dream, my 'one thing' to become Formula One World Champion," read a statement on Rosberg's official Facebook page. "Through the hard work, the pain, the sacrifices, this has been my target. And now I've made it. I have climbed my mountain, I am on the peak, so this feels right. My strongest emotion right now is deep gratitude to everybody who supported me to make that dream happen.
"This season, I tell you, it was so damn tough. I pushed like crazy in every area after the disappointments of the last two years; they fuelled my motivation to levels I had never experienced before. And of course that had an impact on the ones I love, too – it was a whole family effort of sacrifice, putting everything behind our target.
"I cannot find enough words to thank my wife Vivian; she has been incredible. She understood that this year was the big one, our opportunity to do it, and created the space for me to get full recovery between every race, looking after our daughter each night, taking over when things got tough and putting our championship first."
Rosberg further revealed that he began thinking about the possibility of retirement after opening up a 33-point lead over Hamilton and helping Mercedes to win their third successive constructors' title at October's Japanese Grand Prix. He informed team boss Toto Wolff of his decision earlier this week.
"When I won the race in Suzuka, from the moment when the destiny of the title was in my own hands, the big pressure started and I began to think about ending my racing career if I became world champion. On Sunday morning in Abu Dhabi, I knew that it could be my last race and that feeling cleared my head before the start. I wanted to enjoy every part of the experience, knowing it might be the last time... and then the lights went out and I had the most intense 55 laps of my life. I took my decision on Monday evening. After reflecting for a day, the first people I told were Vivian and Georg (Nolte, from Nico's management team), followed by Toto.
"The only thing that makes this decision in any way difficult for me is because I am putting my racing family into a toughsituation. But Toto understood. He knew straight away that I was completely convinced and that reassured me. My proudest achievement in racing will always be to have won the world championship with this incredible team of people,the Silver Arrows.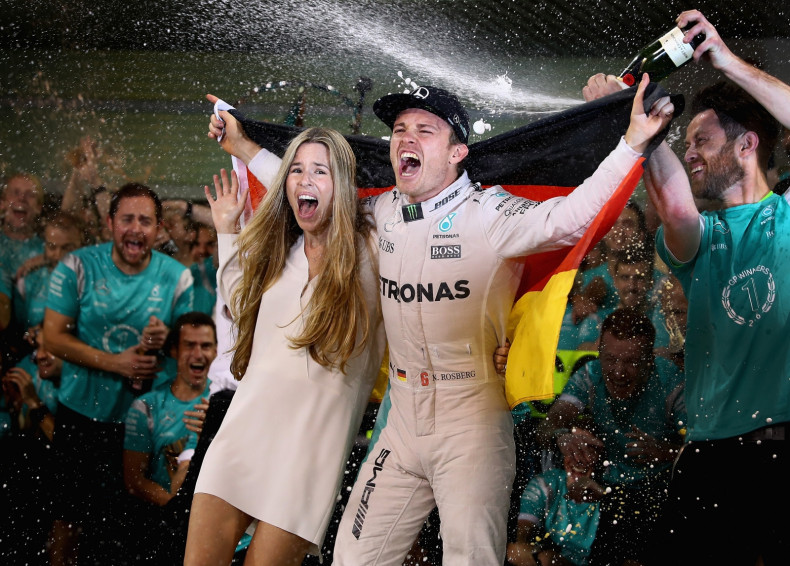 "Now, I'm just here to enjoy the moment. There is time to savour the next weeks, to reflect on the season and to enjoy every experience that comes my way. After that, I will turn the next corner in my life and see what it has in store for me..."
Having impressed in karting, German Formula BMW, GP2 and as Formula One's then youngest ever test driver, Rosberg, who also revealed his decision at an FIA press conference in Vienna on Friday (2 December), began his F1 career racing alongside Mark Webber at Williams a decade ago. He made 70 total starts for the team before leaving and being subsequently snapped up by a re-branded Mercedes setup in the winter of 2009 after Mercedes-Benz bought a 75% share in champions Brawn GP.
Rosberg outperformed iconic teammate Michael Schumacher during a difficult first three seasons that followed that move and won his first race in China in 2012. The latter half of his Mercedes tenure was dominated by an increasingly hostile rivalry with Hamilton, which saw him beaten to the world title in back-to-back years before this season's long-awaited triumph.
The German won 23 of his 206 career races - a record that leaves him tied with Nelson Piquet for 12th on the all-time winners' list - and finished on the podium 57 times in total, accumulating 1594.5 points. He secured pole position on 30 different occasions and is the first reigning champion to retire since Alain Prost in 1993.
F1 will now inevitably be awash with rumours over who will take over his coveted seat with the sport's dominant force in 2017. Team protege Pascal Wehrlein, who just completed his first full campaign with Manor Racing, is one obvious contender if Mercedes do not attempt to entice another big-hitter such as four-time world champion Sebastian Vettel or rising star Max Verstappen.