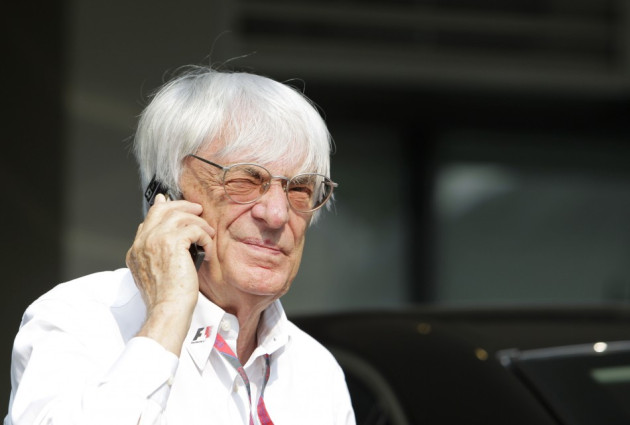 Formula One chief executive Bernie Ecclestone lied to investigators over the $US44m payment at the heart of a criminal case in Germany, it has been claimed in court documents.
Mr Ecclestone is due to appear as a witness in a court in Germany Wednesday in the ongoing case of a German investment banker who is accused of accepting $44m (£27.5m) in bribes during the sale of Formula One rights.
The 81-year-old chief executive, is set to appear as a witness in the trial of Gerhard Gribkowsky, the former chairman of Formula One's holding company SLEC, who is alleged to have received the bribe in 2006 in exchange for undervaluing the company's shares in F1 when they were sold to CVC Capital Partners.
Documents shown to The Daily Telegraph claim that it was Mr Ecclestone who instigated the payment of bribes by proposing to use an account in Singapore containing $US80m to be paid to Mr Gribkowsky.
Court papers allegedly show that Mr Ecclestone paid the bribe to guarantee he retained control of F1 after its sale in 2006. However, the papers allege Mr Gribkowsky refused to accept the $80m, preferring instead to receive the funds through a series of consultancy agreements.
Mr Ecclestone has admitted the money was paid, with £8m coming from his own funds and the remainder paid by his offshore family trust, Bambino, but he has denied it was a bribe, saying the money was paid to ensure false allegations of his tax affairs were not reported to HM Revenue & Customs.
Mr Ecclestone has claimed he was blackmailed by Gribkowsky into making the payments but court documents dispute that view.
"Mr Ecclestone's allegation that the payments related to threats... rather than to the disposal of the BayernLB holding is untrue," the papers said.
"It is to be inferred Mr Ecclestone's motivation for promoting the acquisition by CVC was to safeguard his practical control of the Formula 1 companies."
Mr Ecclestone said in July: "I never bribed anybody or paid any money to anybody in connection with the company. I got 5 per cent for the sale of the company. Bayerische Landesbank approved the sale and approved the commission, which was cheap. I should have got more because for that sort of deal a bank would have charged a lot more. There were no secrets."