Fernando Alonso clinched his and Ferrari's first win of the Formula One season, with an impressive performance in the Chinese Grand Prix on Sunday 14 April.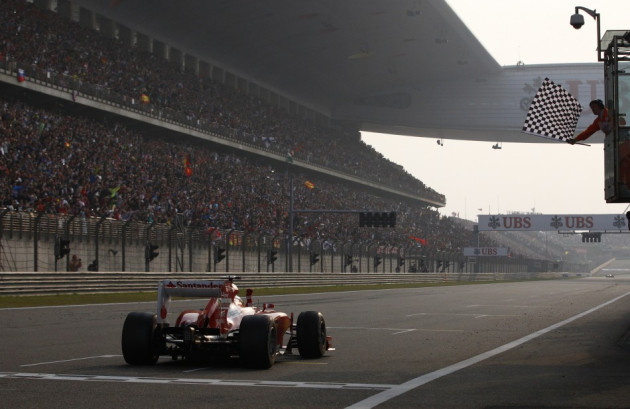 The Spaniard, who started third on the grid, finished ahead of Lotus' Kimi Raikkonen and Mercedes' Lewis Hamilton, who started on pole. Defending champion Red Bull driver Sebastian Vettel had to settle for fourth, while McLaren's Jenson Button finished fifth.
Vettel's team-mate Mark Webber suffered yet another blow as he was forced to retire before the 20th lap. The Australian, who started the race from the pit lane, witnessed his rear wheel falling off, on his way back to the pits, after a collision with Toro Rosso's Jean-Eric Vergne.
Alonso passed Raikkonen at the start before taking the lead from Hamilton as early as lap five. The 31-year-old was highly impressive throughout and relinquished the lead only for pit stops, as he cruised to victory at the Shanghai International Circuit .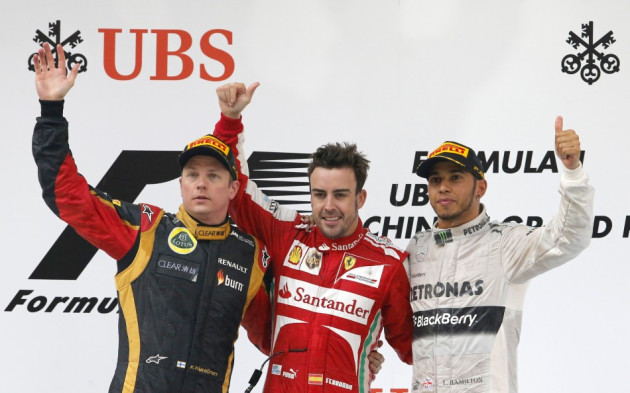 "Definitely it was a fantastic race for us from the start to the end. We had no problems with the car, the tyre degradation was better than expected. It feels fantastic. After the retirement in Malaysia we were under pressure to finish but of the two races we have finished we have been second and first so it is looking good and we are very optimistic," the Spaniard said.
Ferrari's Felipe Massa was sixth, while Toro Rosso's Daniel Ricciardo raised a few eyebrows by finishing seventh. Force India's Paul Di Resta, Lotus' Romain Grosjean and Sauber's Nico Hulkenberg completed the top 10.
The race has cut Vettel's lead at the top over Raikkonen to three points, with Alonso a further six behind. Hamilton is fourth, three behind Alonso but 10 ahead of fifth-placed Massa.
Chinese GP results
1. Fernando Alonso (Ferrari)
2. Kimi Raikkonen (Lotus)
3. Lewis Hamilton (Mercedes)
4. Sebastian Vettel (Red Bull)
5. Jenson Button (McLaren)
6. Felipe Massa (Ferrari)
7. Daniel Ricciardo (Toro Rosso)
8. Paul Di Resta (Force India)
9. Romain Grosjean (Lotus)
10. Nico Hulkenberg (Sauber)
11. Sergio Perez (McLaren)
12. Jean-Eric Vergne (Toro Rosso)
13. Pastor Maldonado (Williams)
14. Valtteri Bottas (Williams)
15. Jules Bianchi (Marussia)
16. Charles Pic (Caterham)
17. Max Chilton (Marussia)
18. Giedo van der Garde (Caterham)
Retired: Nico Rosberg (Mercedes), Mark Webber (Red Bull), Adrian Sutil (Force India)