F1 British GP 2013: Daniel Ricciardo Fastest in Opening Practice at Rain-Hit Silverstone
Sebastian Vettel, Fernando Alonso, Mark Webber and Nico Rosberg did not post times
The first practice session for the 2013 Formula 1 British Grand Prix was all but cancelled, with heavy rains limiting all 22 drivers to the odd installation laps for almost the entire session. It wasn't till the final 10 minutes that lap times began to pop up on the timing sheets... and even then, drivers were forced to run on the Cinturato Blue (wet) tyres.
The track was declared wet right from the start of the 90 minute session, with DRS disabled.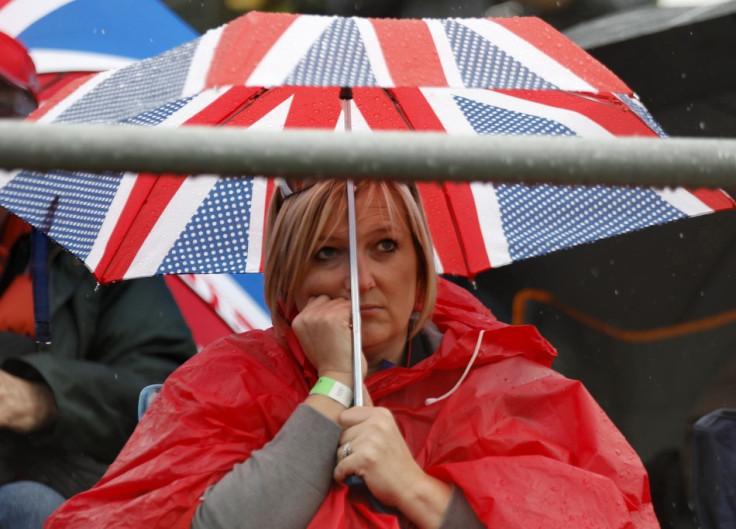 Incidentally, the Silverstone circuit has two DRS zones for 2013. The first is on the Wellington straight, past Abbey and the Loop at the start of the lap and the second is on the Hangar straight, past the Becketts complex. DRS detection for the first zone is just before Village (Turn Three) and after Chapel (Turn 10) for the second.
There was considerable standing water on the track at the start of the session, meaning early runners - Williams' Valtteri Bottas and Pastor Maldonado and Sauber's Esteban Guttierez - did slow installation sequences through the first and second sessions before returning to the pits without posting a time.
Championship leader Sebastian Vettel and Ferrari's Felipe Massa joined the watery fun about 10 minutes in but they too were swiftly back in the pits. By about 10.30am local time, it was clear there was to be no immediate running.
Force India's Paul di Resta was back out at 10.42am local time, followed by Toro Rosso's Jean-Eric Vergne and then Guttierez but once again all the drivers returned without posting a time.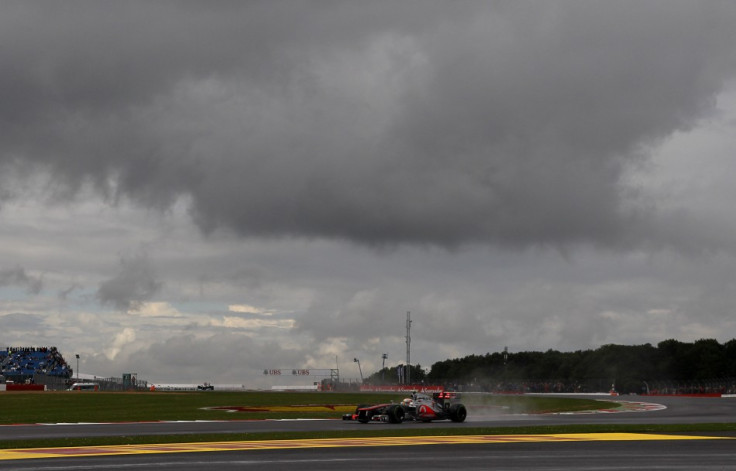 It wasn't till 11.16am local time that the first lap was set. Vergne's team mate, Daniel Ricciardo, posted 2:00.029 and promptly bettered that by two seconds. And that was the signal, so to speak, with Ferrari's Fernando Alonso and Mercedes' Nico Rosberg joining him on the track.
With five minutes to go, Lewis Hamilton posted P1 with 1:55.458 (on the wet tyres). Maldonado, Nico Hulkenberg and Ricciardo went faster still in the final minutes, with the latter posting the fastest time of a truncated and almost farcical session - 1:54.249.
As many as 11 drivers declined to set lap times in the opening practice, with Alonso, Vettel, Mark Webber and Lotus' Kimi Raikkonen among them. In fact, Raikkonen did not drive at all, preferring to wait till the afternoon session and Saturday practice.
Ultimately, the morning practice session was a disaster for fans and there will be comparisons to the 2012 British Grand Prix, when rain severely limited track time for the cars.
READ: Formula 1 British GP 2013: Where to Watch Friday Practice at Silverstone Live and Weather Updates
READ: Formula 1 British GP 2013: Nico Rosberg and Mercedes Dominate Final Practice at Silverstone
© Copyright IBTimes 2023. All rights reserved.