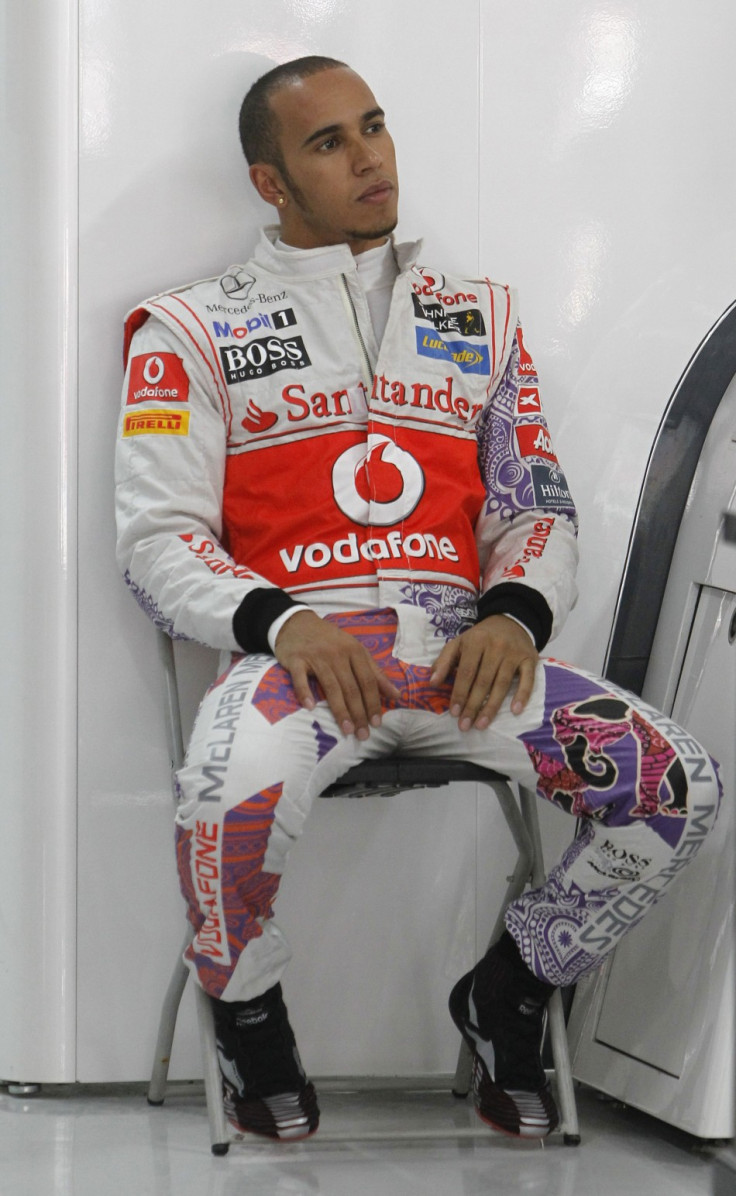 It isn't just high-profile footballers who sign multi-million contracts. According to a report in The Sun, McLaren's Lewis Hamilton has been offered a staggering £100mn five year contract to remain at the Woking-based team.
The news comes after speculation that Hamilton was becoming increasingly frustrated both at the lack of pace of the car and, more specifically, a series of costly pit lane errors that have cost the 2008 World Champion at least one race win and one other podium finish.
McLaren team boss Martin Whitmarsh was quoted in an earlier IBTimes UK report as dismissing any concerns over Hamilton's happiness within the team his future, given that his contract expires at the end of this season. Whitmarsh also admitted he too had been frustrated by the team's performance and the mistakes they had made but insisted Monaco would see a revival.
As far as Hamilton's supposed new contract offer goes, the deal represents an enormous 33 percent hike for the driver, who is presently on the last year of a £75mn five year deal. However, the report understands that a significant portion of the offered £100mn will come in the latter years of the contract on the table.
Meanwhile, Hamilton, who has confirmed he would like to remain with McLaren, made a reasonably successful return to the streets of Monte Carlo, finishing fourth in Thursday's first Free Practice, with a time of 1:16.747, .482s off session leader Fernando Alonso of Ferrari. The second session was more problematic, with the rain coming down after 30 minutes, prior to which Hamilton's team mate Jenson Button was fastest, on 1:15.746; Hamilton was a disappointing 11th with a time of 1:17.375 and 1.629s off the pace.
Incidentally, the weekend's Monaco Grand Prix marks one year since Hamilton's famous "Maybe it's because I'm black" remark, which he made in response to race stewards administering a number of penalties during the 2011 race. it was suggested he seek the help of a sports psychologist to address anger issues, which he denied having.
"I don't allow myself to get frustrated. I could easily get frustrated because I could have a healthy lead in the drivers' championship - but that's not the case. I just have to deal with what I've got. I've still been driving well and I've got good points and been consistent. I've just got to continue on that path and, when things come together in the team, the results will come," Hamilton said, in a report by The Sun, when referring to last year's incident and his bad luck so far this season.
Re-Cap of Free Practice 1
Ferrari's Fernando Alonso was the surprise leader after Free Practice 1 (FP1) at Monaco, lapping .365s quicker than Lotus' Romain Grosjean. The Italian team have also come under pressure this season, with generally inconsistent performances and a poor season, so far, from Alonso's team mate, Felipe Massa, who managed a better showing this time around, with a sixth place time of 1:16.843, .578s off his team mate.
Meanwhile, Sauber's Sergio Perez, still riding high after an excellent Malaysian Grand Prix, managed third, finishing 0.036s ahead of Hamilton, with a time of 1:16.711 and Spanish Grand Prix winner Pastor Maldonado was also in the mix, bringing his Williams home in fifth, with a time of 1:16.760.
The Red Bulls, however, had a disappointing session; defending World Champions Sebastian Vettel was the team's best, with a ninth place finish and a time of 1:17.222, while team mate Mark Webber was in 13th with a time of 1:18.106. Webber placed behind the Mercedes duo of Nico Rosberg (10th with 1:17.261) and the under pressure Michael Schumacher (11th with 1:17.413), as well as Force India's Nico Hulkenberg.
For the full session results, click here.
Re-Cap of Free Practice 2
The rain was expected in Monaco but not till Friday. However, the second Free Practice session (FP2) was cut short after 30 minutes due to the unexpected shower, meaning McLaren's Jenson Button (who finished the first session in eighth with a time of 1:17.190) remained on top after a stunning early time of 1:15.746, nearly two seconds faster than anything he managed all weekend and half a second faster than Alonso's morning time.
Behind Button, Lotus' Romain Grosjean was once again second, with 1:16.138 - half a second faster than his best, while a revitalized Felipe Massa beat his team mate Fernando Alonso to third. The Brazilian lapped in 1:16.602 (albeit nearly a second off Button) to the Spaniard's 1:16.661. Wililams' Maldonando continued to perform excellently, giving the team much joy after the tragic incident of the pit lane fire in Spain and was fifth with 1:16.820. The second McLaren, of Lewis Hamilton was way down the order in 11th, with other big names like Mercedes' Nico Rosberg and Michael Schumacher, as well as Red Bull's Sebastian Vettel and Mark Webber all caught out by the weather and unable to run Pirelli's super-soft compound.
For the full session results, click here.
The third Free Practice session (FP3) will take place between 9.55 am and 11.05 am (BST) on Saturday, 26 May. The qualifying session will be held at 1 pm (BST) on the same day.
The race will start at 12.05 pm (BST) on Sunday, 27 May.