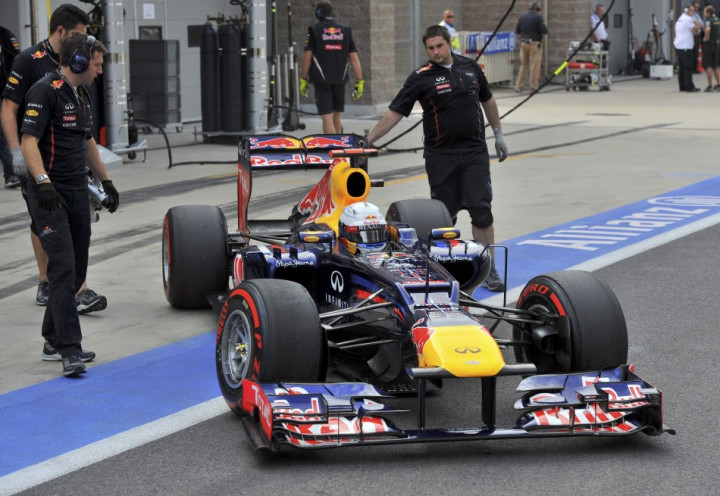 The Red Bull Formula 1 racing team had two reasons to celebrate qualifying for the 2012 Korean Grand Prix, after Mark Webber and Sebastian Vettel put the Milton Keynes outfit on the front row of Sunday's race grid.
Webber lapped the Yeongam circuit in 1:37.242, only 0.074s faster than his team mate, Vettel. And while the defending world champion would certainly have been disappointed at missing out on his second pole position in as many races, he will be pleased to have championship rivals Lewis Hamilton and Fernando Alonso starting behind him. The former, in his last few races for the McLaren-Mercedes team (he shifts to the Mercedes works team from next season), qualified third with a time of 1:37.469 and Alonso rounded off a potentially thrilling start to Sunday's race, lapping his Ferrari in 1:37.534. More importantly, the fact only three-tenths of a second covered Webber, Vettel, Hamilton and Alonso means the race and the 25 points the winner pockets is still wide open to any one of these drivers.
Track Facts
Circuit Name: Korea International Circuit
First Race: 2010
Circuit Length: 5.615km
Number of Laps: 55
Race Distance: 308.63km
Lap Record: Sebastian Vettel (Red Bull) - 1:39.605 (in 2011)
2011 Winner: Sebastian Vettel (Red Bull)
2011 Pole: Lewis Hamilton (McLaren-Mercedes)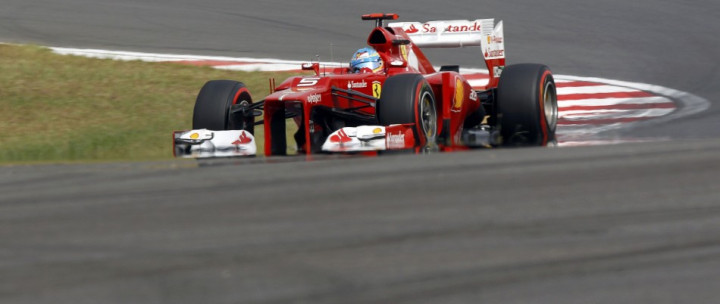 Where to Watch Live
Live coverage of the race from Yeongam in South Korea starts at 5.30 am BST on Sky Sports F1 HD (at 6 am BST on BBC One and BBC One HD). Radio commentary is available on BBC Radio 5 live from 6.55 am BST and live and free text updates are available through the Live Timing section on the sport's official Web site.
Qualifying Review
Red Bull has been, by some margin, the more consistent of the top teams in the hunt for the 2012 Formula 1 Constructors' crown. The Webber-Vettel pairing has six pole positions this year, which puts them marginally ahead of the Hamilton-Jenson Button team at McLaren (five pole positions) and comfortably ahead of Alonso, who has two pole positions this season.
Outright speed in qualifying deserted Webber and Vettel in the early part of the second half of this season, until the night race in Singapore, where the German qualified third. However, at both Suzuka (for the Japanese Grand Prix) and here at Korea, the Red Bulls seem to have re-discovered performance over a qualifying lap.
Behind Webber, Vettel, Hamilton and Alonso in the top four, the steady and consistently impressive Lotus-Renault team picked up yet another top five grid start (11th this season) after Kimi Raikkonen saw off former Ferrari team mate Felipe Massa in the second of the marquee Italian outfit's cars, to fifth. Raikkonen's 1:38.227 was only 0.026s ahead of the Brazilian and once again split seconds... mere fractions... separate drivers in what is likely to be race won either by strategy or sheer individual brilliance. Raikkonen's team mate, Romain Grosjean, will start seventh, ahead of the Sahara Force India of Nico Hulkenberg and the disappointed Mercedes duo of Nico Rosberg and Michael Schumacher.
For more details on qualifying for the 2012 Formula 1 Korean Grand Prix, click here.
For a full timesheet for qualifying, click here.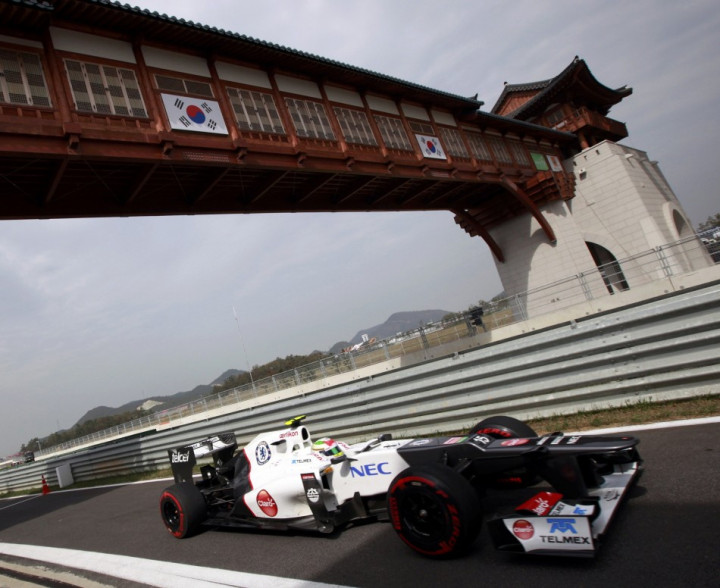 Championship Overivew
Alonso went into the mid-season break, after the Hungarian Grand Prix, with a dominant lead over both Hamilton and Vettel. The Spaniard, a double world champion, had 164 points after the race at the Hungaroring that despite offering Hamilton an emphatic victory, still left him 47 points behind the Ferrari driver. Vettel, the reigning world champion, was no better - he was 42 points off the top.
However, since the Hungarian Grand Prix, Alonso has seen an alarming dip in form and has scored only 30 points in the four races since. By contrast, Hamilton has scored 35 points and, importantly, Vettel a hugely impressive 68, including wins in the last two races at Singapore and Japan.
All this means that as we wind down to the end of the 2012 Formula 1 season, the drivers' championship, far from being a favourite to return to Maranello in Italy, could now remain with Vettel in the UK, if recent form is any indication.
How has Alonso remained in the lead for so long? Well... that is because the Spaniard has done what Vettel did earlier in the season and what all champion drivers do - he wrung every last bit of performance out of the F2012 to remain in points scoring positions. Every time the Spaniard crosses the finish line on a Sunday, he scores points. Vettel, in contrast, finished the Italian Grand Prix at Monza in 22nd place and outside points scoring positions and such small differences could yet still determine the course of the championship.
As things stand, Alonso has 194 points to Vettel's 190 and Hamilton is fourth with 152. Barring a miracle, the British driver is unlikely to win his second championship this season but the McLaren's pace and Hamilton's desire to finish the season on a high will mean he is likely to play a role, albeit unintentional, in deciding who of Vettel and Alonso wins this year.
Lotus' Kimi Raikkonen has had a fantastic year and the fact the Finn is third, with 157 points, despite not winning a race this season (his best finishes were second at Bahrain, Valencia and Hungary) bodes very well for the team's future.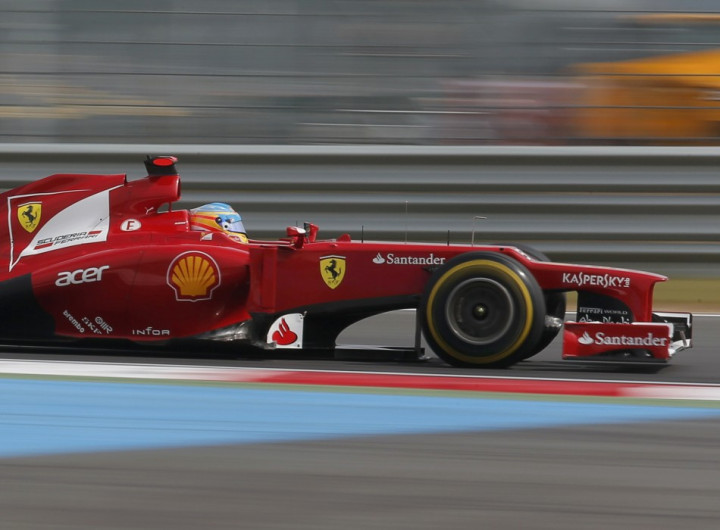 Weather Forecast
The race is set for a 3 pm local start and fortunately we have a good weather forecast for Sunday. There are a few clouds expected early in the morning, which should help keep the temperatures under a degree of control as the day wears on. Air temperature will rise to 25 degrees Celsius by the start of the race, with 65 percent humidity and only four percent cloud cover. It will be a fairly hot and sticky afternoon's work for the drivers.
The big challenge will be the wind coming in from the north. Wind speeds are expected to cross a very challenging 35km/h by the time race starts and drivers will be faced with all that resistance as the cars make their way up the long straight after Turn 2. There is also likely to be a lot of resistance as the cars negotiate the second sector - the infield sector, with Turns Four through 12 flowing into one another and punctuated by short throttle bursts.