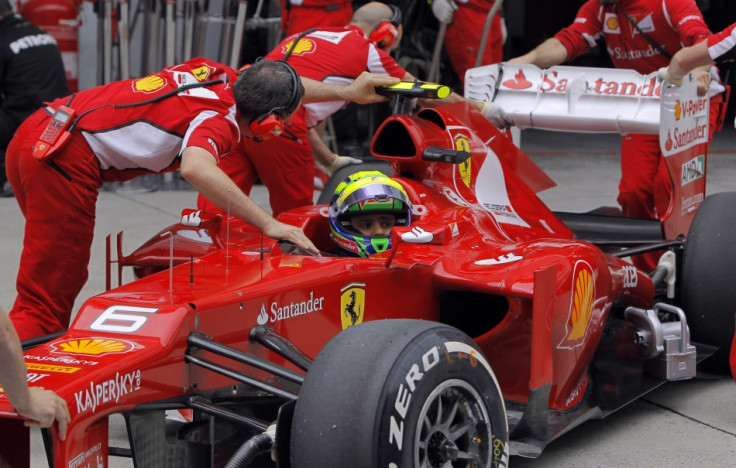 The 2012 Formula 1 German Grand Prix draws ever closer and there are several very interesting pieces of news, up and down the pit lane, as teams and drivers gear up to revisit the Hockenheimring, between 20 July and 22 July, for the tenth round of the championship.
Ferrari's Fernando Alonso and the Red Bull team will head into the weekend as leaders in the race for the driver's and constructor's world titles, after impressive performances, by both parties, in recent races. Alonso continues to display superb skill and confidence in pushing a Ferrari that is clearly not the fastest car around, at the moment, while the combined might of defending world champion Sebastian Vettel and Australian team mate Mark Webber means Red Bull have a dominant lead in the constructor's championship.
In an earlier IBTimes UK preview to the German Grand Prix, we'd spoken about the confidence and determination, of the grid's German contingent, to do well at their home race. There was also news about the Lotus-Renault team bringing "interesting" updates to Hockenheim and confirmation Webber had re-signed with Red Bull, despite rumoured interest from Ferrari.
Felipe Massa in Trouble at Ferrari?
An earlier IBTimes UK report commented on what is still a very precarious situation for Felipe Massa at Ferrari. Massa has been with the Italians since 2006 and has driven alongside world champions like Michael Schumacher, Kimi Raikkonen and now Fernando Alonso. However, a string of poor performances this season (his best qualifying performance was fifth, at the British Grand Prix, which also marked his best race finish of the season - fourth), in addition to the fact he has not finished on the podium since third in the 2010 Korean Grand Prix and not won a race since the 2008 Brazilian Grand Prix, have meant his place at the marquee Italian outfit is coming under increasing pressure.
His recent improvement (at the British Grand Prix), however, has Massa believing there is reason for hope and a continued stay at Maranello.
"I think if we keep working like that and keep improving the car and working, I don't see a reason why I cannot be here. I feel much more comfortable, and driving in the direction that I like," he was quoted as saying in a Yahoo report, "I feel there is a lot more to come. This is the direction we need to keep working; to improve the situation every race and to make a different championship for myself from now until the end of the season."
There was speculation, earlier, Ferrari were considering Webber to replace Massa for next season but news the Australian has extended his contract at Red Bull has put a damper on that topic. Sauber's Sergio Perez, however, is another option. In any case, the team has insisted no decision has been made.
"In Maranello, no one is in a hurry to make any decisions and that's for sure. Now the most vociferous and qualified rumourmongers are taking it for granted that Felipe will be confirmed, these generally being the same voices that, not only had him down as being out of the running for 2013, but would have had us believe he would not even see out the season. Now coming into bloom are a whole list of possible and potential replacements, with a list of names from A to Z, something Ferrari is well used to," an insider was quoted as saying.
Ferrari Confident for Germany
Staying with news about Ferrari, the team has admitted they are cautiously optimistic ahead of the weekend's race. Auto Sport quoted Alonso's race engineer, Andrea Stella, as saying he expected the car to be "competitive".
"The car was good in Valencia, it was also good in Silverstone. And as Hockenheim is a mix of the slow speed of Valencia and high speed of Silverstone, I would expect Ferrari to be competitive in Germany," Stella said.
"In the past in Hockenheim, managing the tyres was difficult, especially the front left and sometimes we also saw blistering on the rear tyres. So it could be an interesting weekend from the tyre point of view," Stella added, according to an ESPN report.
Force India Wants Podium
Meanwhile, Indian businessman Vijay Mallya and his Force India team aim to build on an already impressive season by recording their second-ever podium place (the first was Giancarlo Fisichella's second place finish in the 2009 Brazilian Grand Prix). Force India are eighth in the championship this season, with 44 points; Paul di Resta has 27 and Nico Hulkenberg 17.
"It's satisfying to see that we are consistent top ten performers," Mallya was quoted as saying in an ESPN report, "We need that little bit of extra luck to get on the podium. Having said that, our immediate competitors didn't have too much luck either [at Silverstone] - Perez and Maldonado were both going well, but they didn't score. Sauber didn't get any more points to increase their lead over us. We are still only three points adrift of Williams and 16 behind Sauber, so we have reasons to be optimistic going forward."
Pirelli to Unveil New Compound
Finally, French tyre suppliers Pirelli are expected to roll out a new hard compound for the German Grand Prix. The tyre was originally meant to debut at the British Grand Prix but given the extremely chaotic wet weather conditions, it never saw the light of day.
"After a wet Silverstone, we hope to give the drivers the chance to run on the experimental hard compound tyre during free practice at Hockenheim," Paul Hembery of Pirelli, was quoted as saying. However, Hembery did warn that should it rain in Germany as well, there was little chance of the experimental compound being used.
"The new hard tyre is not a big evolution, but it has a slightly wider working range, which should make it easier for the teams to get the tyres up to temperature and maintain them in the correct operating window," he added.