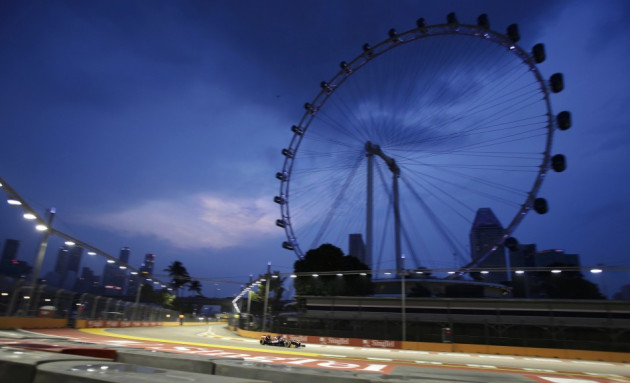 An already exciting 2012 Formula 1 world championship seems set for further twists, if the form displayed by Red Bull's Sebastian Vettel is any indication. The defending world champion was fastest in both of Friday's free practice sessions, as the drivers and teams took to the streets of Singapore, at night, after a thunderstorm earlier in the day.
Free Practice One
However, Vettel's times were not fast enough to open, or even suggest, any significant advantage over his title rivals; McLaren's Lewis Hamilton, in the first session, was only 0.049s behind the German. The most important results were good for both Vettel and Hamilton though. Championship leader Fernando Alonso was fourth fastest in his Ferrari, nearly a second down on P1 and Hamilton's team mate, Jenson Button, was only a tenth faster than Alonso's time.
Further down the grid, the usually impressive Lotus-Renaults had a subdued first practice session, with Finn Kimi Raikkonen the best in his 12th place; his team mate, Romain Grosjean (back in the car after serving a one-race suspension) was three-tenths further down, with 1:53.028 for 15th. Alonso's team mate, Felipe Massa, and the Mercedes duo of Michael Schumacher (1:52.986; 14th) and Nico Rosberg (1:53.227; 18th) were the other major drivers left disappointed after the first session. Vettel's team mate, Mark Webber also had a troubled first practice session. The Australian could only manage a 1:51.655 for sixth place.
On the bright side, Pastor Maldonado in his Williams continues to display promising pace in an underperforming car. The Venezuelan driver was fifth, with a time of 1:51.576. The top ten was rounded out by both Sahara Force India cars (Nico Hulkenberg with 1:51.658 and Paul di Resta in a 1:51.943), Toro Rosso's Daniel Ricciardo in ninth and talented young Mexican Sergio Perez tenth in his Sauber-Ferrari.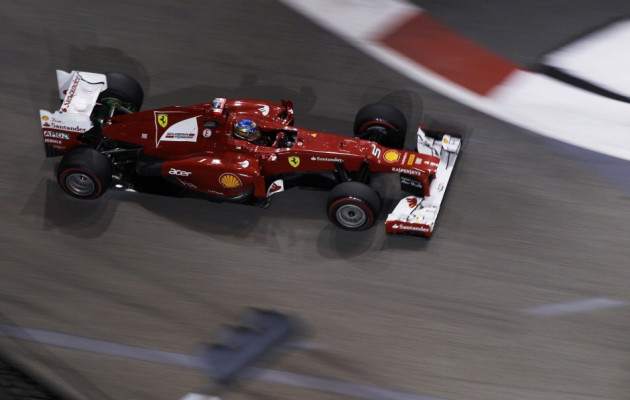 Free Practice One (Top Five Times)
Sebastian Vettel (Red Bull Racing-Renault) - 1:50.566
Lewis Hamilton (McLaren-Mercedes) - 1:50.615
Jenson Button (McLaren-Mercedes) - 1:51.459
Fernando Alonso (Ferrari) - 1:51.525
Pastor Maldonado (Williams-Renault) - 1:51.756
For the full timesheet click here.
The session took a little while to come alive; there had been heavy rain during the practice session for the support races (the GP2 series). The McLaren of Hamilton and the Red Bull of Vettel were almost immediately on the pace and traded sector times, with the German's car edging the 2008 world champion in the second and third sectors.
"This is a tough circuit for drivers and cars. Overall we can be happy with today, but let's see what we do tomorrow. Most important is that the car seemed to work on either tyre, so we go from there. The kerbs have been changed this year, which is an improvement," Vettel explained after the day's runs.
Hamilton and McLaren were more concerned about outright pace and tire wear than Vettel was. The Woking-based team and driver both spoke about the fact the track had yet to rubber-in (improve surface grip through rubber laid down by passing cars) and Martin Whitmarsh, the team principal, admitted the team needed to translate practice pace into good qualifying and race performances. Ferrari, meanwhile, were understandably disappointed with their work on the day. Alonso admitted the problem of a lack of aerodynamic downforce on the F2012 was still unresolved and also that the car was not using its tires as well as it should, despite the track having been resurfaced.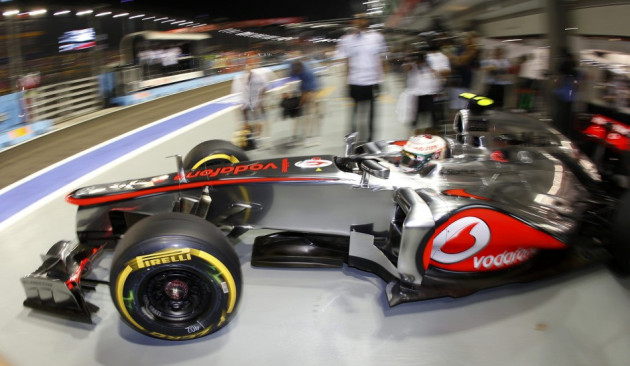 Free Practice Two
The second practice session was all about Vettel. The German was three-tenths faster than his nearest rival, the McLaren of Jenson Button, and more than half a second quicker than Alonso in his Ferrari. The times, as were expected, took a nosedive once rubber began to appear on the track's surface, with Vettel smashing his first session time by over two seconds.
However, Hamilton appeared to struggle this time around. The British driver managed a time only 1.6s faster than his previous fastest and his second session time of 1:49.086 was 0.746s off Vettel's pace. A worrying sign, maybe, and one indicative of Whitmarsh's admission the team needed to carry pace from one session to another.
Free Practice Two (Top Five Times)
Sebastian Vettel (Red Bull Racing-Renault) - 1:48.340
Jenson Button (McLaren-Mercedes) - 1:48.651
Fernando Alonso (Ferrari) - 1:48.896
Mark Webber (Red Bull Racing-Renault) - 1:48.964
Lewis Hamilton (McLaren-Mercedes) - 1:49.086
For the full timesheet click here.
Alonso, meanwhile, was distinctly more comfortable in his Ferrari... but perhaps the best indicator of how much the Italian team had improved in the second session was that the Spaniard's team mate, Massa, jumped from 16th with a time of 1:53.080 in the first session to ninth with a time of 1:50.039 in the second. Elsewhere through the grid Webber too posted a significant improvement; the Australian found approximately 2.7s between the sessions to improve to a 1:48.964 (still more than half a second off his team mate though). The Mercedes works team also showed improved times, with Rosberg posting 1:49.790 (some 3.5s faster than the first session) and Schumacher improving to 1:50.263 from 1:52.986).
The Sahara Force India cars continued running strongly though, which will please the owners; the championship will visit India towards the end of October. Hulkenberg and di Resta both improved by two seconds each to post 1:49.339 and 1:49.790 respectively, to finish seventh and eighth, again. The Lotus-Renault drivers showed slight improvements, moving up to a best of 10th (Grosjean 1:50.161) in the second session from 12th (Raikkonen 1:52.716).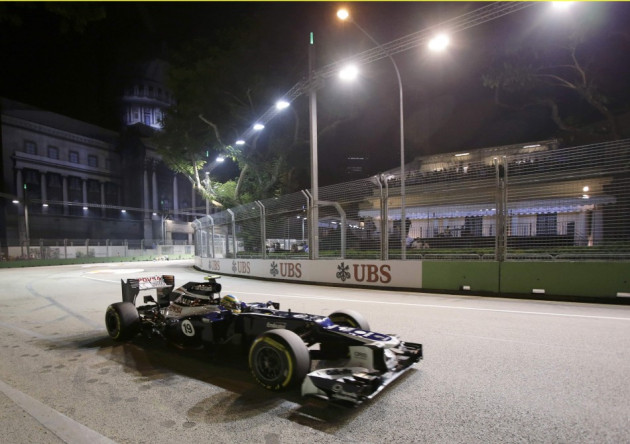 Free Practice Three and Qualifying
Where to Watch Live: The third and final free practice session is to start at 10.45 am BST and will be, as usual, a 90 minute session. There will then be a 50 minute break before qualifying starts, at 1 pm BST. Coverage of the free practice session will be on Sky F1 HD, while the hour-long qualifying session will be telecast live on Sky F1 HD and BBC One / BBC One HD. In addition, real time session updates will also be available via the Live Timing section on the sport's official Web site.
Weather Forecast: The 45-minute thunderstorm early on Friday is unlikely to be repeated on Saturday, although forecasts do all for rain in the morning and afternoon; if this were a normal race weekend then yes, that would be a problem. However, the Singapore Grand Prix is a night-time event, so we should have a dry track by the time the third practice session starts at 6 pm (local time). Air temperature will hit a high of 32 degrees Celsius through the day but that should drop to around 30 degrees Celsius by evening and, as expected, humidity levels are likely to be very high... touching the 75 percent mark.