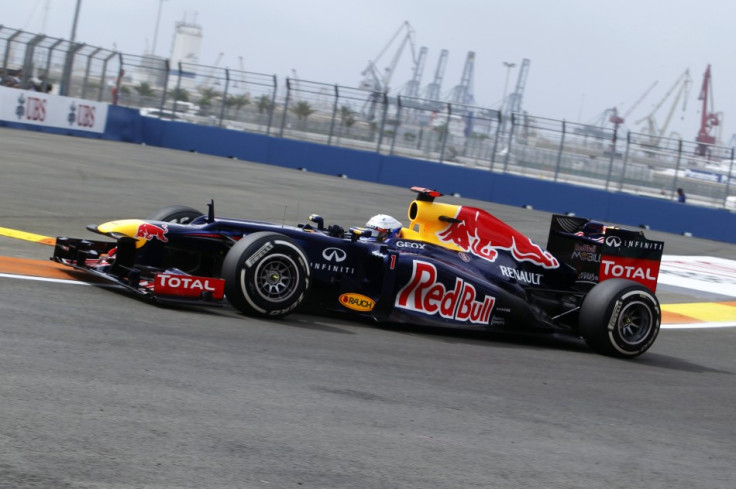 The 2012 Formula 1 World Championship is beginning to take a somewhat predictable shape after an erratic and unpredictable start to the season. Of course, having said that we must add that because of so record-breaking a start, to attempt to suggest Sebastian Vettel and the Red Bull team storming to pole position for Sunday's European Grand Prix, a full 0.324s ahead of the McLaren of Lewis Hamilton, is indication of normal service being resumed is wrong.
Sunday's race around the streets of Valencia will be the eighth race event of a season in which no driver has won more than single race. The race winners for the season include usual suspects like Ferrari's Fernando Alonso, Vettel and his team mate Mark Webber the McLaren duo of Hamilton and Jenson Button. The list also includes unfancied names like Pastor Maldonado of Williams and Nico Rosberg of Mercedes. Fair warning to traditional title favourites, then, since Maldonado will line up third on the grid and Rosberg sixth, with the closest, among the big-name top six drivers, to the Red Bull and McLaren front row being Hamilton's team mate Button, in ninth place.
Other drivers at the top end of the qualifying grid include the Lotus pair of Romain Grosjean (who finished on the podium in the last race at Canada) and former World Champion Kimi Raikkonen, both of whom were impressive on Saturday. Kamui Kobayashi, in his Sauber, will line up seventh, while Force India continues their steady form - Nico Hulkenberg will start eighth and Paul di Resta tenth.
The Ferrari team, meanwhile, has seen their weekend slip from reasonably good (Alonso was fifth in the opening Free Practice Session, 0.175s off the pace) to disastrous. The scarlet cars will start eleventh (Alonso) and thirteenth (Felipe Massa), sandwiching the equally miserable former Ferrari champion Michael Schumacher in his Mercedes.
The Build-Up
The European Grand Prix is as much a street circuit as the Monaco Grand Prix, which was why Pirelli's Paul Hembery tipped Schumacher as being the man to watch. The seven time world champion's form in the practice sessions (he was fourth in second Free Practice) suggested good times ahead for the German. However, as IBTimes UK predicted in our preview to the race, the problem of unpredictable Pirellis cropped up again. Maldonado, in the post-qualifying press conference, admitted that the Pirelli option tyres were proving to be difficult to control.
The car has been quite quick from yesterday. We were struggling a bit with the option tyres. We were confused because I didn't feel the same feeling with the prime tyres but then we've working so hard trying to understand what was happening with the car this morning, still struggling, especially with the option tyres," the Venezuelan told Formula1.com.
Ferrari have been predictably disappointed by their performances so far, with lead driver Alonso calling their times a "cold shower". The Spaniard took some heart from the fact that even though they failed to make Q3, his Q2 time was only 0.177s off Vettel's and Massa's only 0.250s. Unfortunately, as optimistic as he wants to be, the truth is that starting from so far back on a track that does not favour overtaking means he will lose ground to both Vettel and Hamilton in the championship race.
Weather Report
According to myweather2.com, the streets of Valencia should be bathed in moderately high temperatures, ranging from approximately 28 degrees Celsius in the early morning to 27 degrees Celsius by the time the race is run. That is good news, to some degree, because it eliminates the threat of rain; indeed, there is absolutely no cloud cover expected. However, what this means is that the behaviour of Pirelli tyres will once again be called into question, particularly the options, on which every driver must make at least one run. Tyre management has already been highlighted as critical by Vettel, who also pointed out that teams that qualified outside the top ten (that is, did not take part in Q3) will have the advantage of an extra set of tyres - a lifesaver should tyre degradation create a problem. Meanwhile, wind speeds are expected to be fairly strong, ranging from 18km/h around noon to 16km/h in the late evening; all coming in from an easterly or east-south-easterly compass point.
Where to Watch Live
You can follow the race live (from 12.10 pm BST) on BBC One and BBC One HD. Coverage on Sky Sports F1 HD, however, will begin 30 minutes earlier, at 11:30 am. You can also follow the race live and get real-time information and feeds at the Formula One Web site.