Fossil fuel price drop marks 2014 as watershed for energy industry, says BP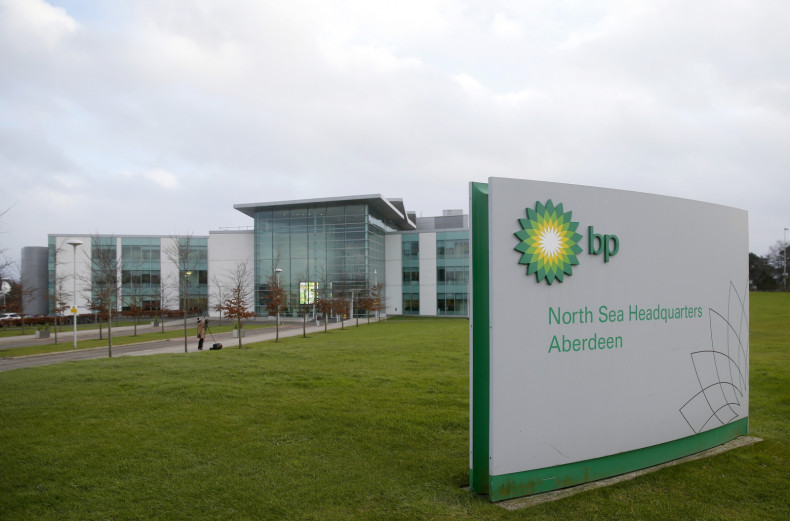 In the future 2014 may mark "a watershed for the energy industry" BP's chief economist said Wednesday.
China's changing energy needs, its move to clean energy, and a broader global push to deal with climate change all came to a head in 2014, the $358.7bn (£231bn, €317.5bn) oil producer indicated as it launched its 2015 statistical review.
"The overall trajectory of emissions is higher than scientists recommend," said chief executive Bob Dudley, as he kicked off the launch of the annual report's 64<sup>th edition. If carbon emissions continue to rise, "something more needs to be done, and something substantial," he added. The launch was co-chaired by BP's chief economist Spencer Dale.
Carbon emissions grew only 0.5% in 2014, their slowest point since 1998 and immediately after the financial crisis, Dudley said. He attributed this to a slowdown in lower energy consumption in China as demand grew there by 2.6% compared to 5.6% in 2012. Dudley said that he recently travelled to the country and was struck by the enthusiasm of Chinese officials to move toward renewable energy.
The fortunes of the Coal industry are tightly linked to China. BP's chief economist Dale said coal's fall was the "most striking number" that came out of the report. After China's real estate market slowed last year — and with it demand for iron, steel and other construction materials like cement — demand for coal dropped sharply, falling -2.6%. On the flip side, he said, there was strong growth in renewables as more Chinese hydropower came online.
"Renewables were again the fastest growing form of energy," said Dale, "in a year when global consumption growth slowed sharply." Although they provide only 3% of world energy, renewables made up one-third of the increase in total energy use.
China's pullback from coal will have knock-on effects on projects like Australia's Galilee Basin, which would require new ports to export through the Great Barrier Reef, said James Leaton, research director at Carbon Tracker — a team of financial, energy and legal experts who study the energy sector's resilience to the impacts of climate change.
One thing that BP's report did not touch on very much, Leaton added, was the impact of lower oil prices. Today Brent crude oil sits at $64.90 per barrel, far from where it stood at $109.95 on 11 June 2014. The price drop led BP to cut spending on new projects by $4bn, followed by many other oil producers, like Shell which slashed $15bn, in early 2015. Leaton said these changes "will come through much more next year" in the statistical report.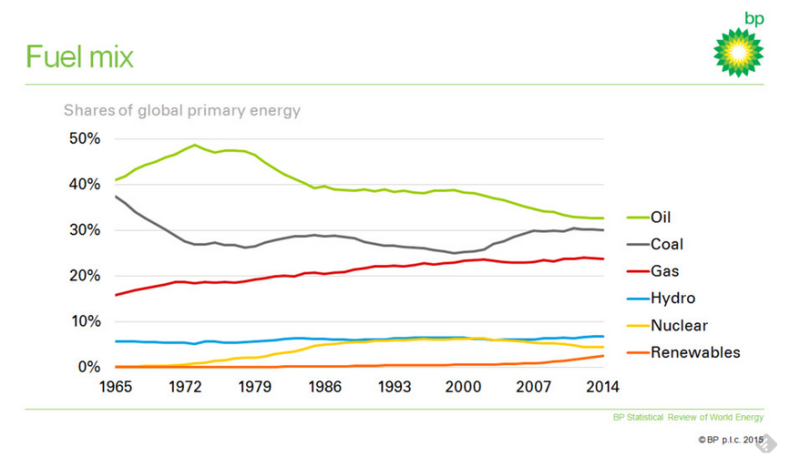 While coal demand in China is falling, and fell 30% globally, demand for it is on the rise in developing countries such as India and in Africa, BP's report said. In India demand rose 11%. "One billion people don't currently have access to electricity," said Dale, citing that this is likely to drive demand in coming years.
Still, "we actually did a piece in November last year looking at potential for coal to change energy access," said Leaton. What Carbon Tracker found is that with the geography of rural areas starved for energy, unless countries build supply routes to ship the resource, they might as well start with renewables.
"It's as if they think people are just sitting on the grid waiting for a coal plant to be built," he said, adding India has an inefficient grid structure and is talking about a huge investment in renewables. He equates it with the shift to mobile phones that many developing countries have made without first installing landlines. "Why wouldn't they do the same off grid with renewables?" he asked.
Monday G7 nations pledged to decarbonize their economies by 2050 at a meeting looking forward to the Paris 2015 climate conference in December.
"We applaud the idea of politicians setting a framework," said BP's Dudley. "The market forces really do work when they're laid out," he added, but "they have to be global."
In early June BP and five other oil and gas giants issued a joint letter to the United Nations asking for a price on carbon emissions. The logic behind this is simple, Dudley said: "it's based on the power of market forces."
Still "we will know the answer in six months time" whether the group has followed through on their lobbying pledge, said Leaton.
In a year when fossil-fuels took a dive, renewables made the biggest contribution to global energy growth in 20 years, said Dale, proving their resilience to current market forces.
The question now is, he said, how we should use those ample fossil-fuel reserves in an "efficient and sustainable way."
Note: This article has been changed to clarify that Australia is not dredging for coal.