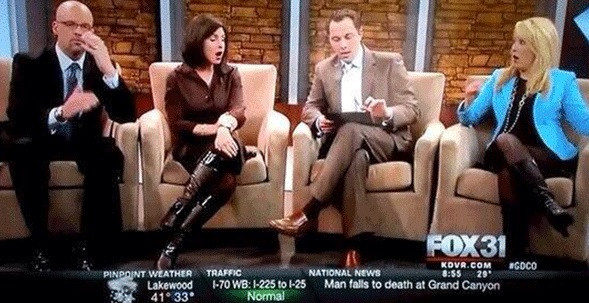 Viewers got more than they bargained for when a picture of a penis aired live on TV during a news broadcast.
Presenters from the Fox News station KDVR were-left red-faced after a Twitter feed of user-generated pictures from the Seattle helicopter crash went awry.
As the anchor scrolled through the images during the live coverage a picture of Edward Scissorhands and a man's manhood appeared on screen.
Although the camera quickly cut back to the shocked presenters, eagle-eyed viewers still noticed the mistake.
KDVR has since apologised for the embarrassing gaffe.
"The photo was mistakenly broadcast by our control room. It did not come from the tablet many viewers saw being used by one of our anchors," it said in a statement
"We apologise for the inadvertent broadcast of the image and we are taking immediate steps to prevent such an accident from happening again."