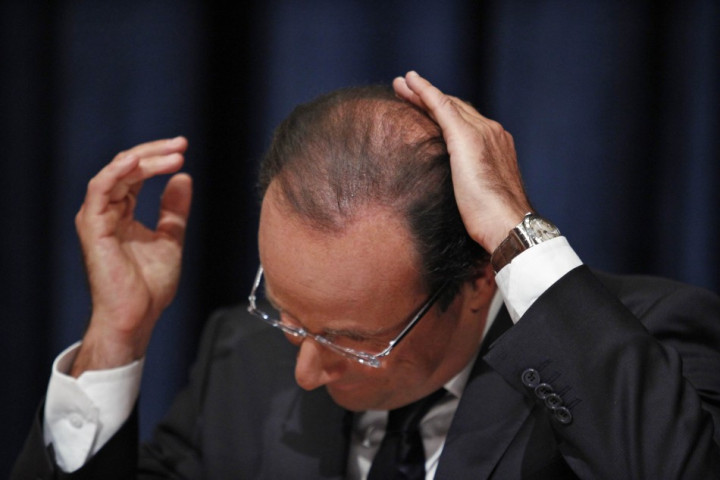 In what has been dubbed France's toughest budget in 30 years, President Francois Hollande is likely to impose a series of tax hikes, but spare the common man.
He is expected to dip into the pockets of the rich to raise funds instead of resorting to huge spending cuts, unlike other European nations.
A day after Spain presented its belt-tightening budget, France will announce plans to raise €30bn (£23.8bn) in a bid to cut the public deficit to 3 per cent of GDP from the existing 4.5 per cent.
Reports suggest only one-third of the required revenue will come from spending cuts. Around €10bn will most likely be raised through fresh taxes from the rich while another €10bn may be mopped up from the corporate sector. Existing tax exemptions are also likely to be slashed.
This is the first budget of Hollande's presidency, and the socialist leader has a tough job amid a sluggish economy and record unemployment.
A mammoth 75 percent tax is proposed for people whose income exceeds €1m. Taxpayers in this bracket are reportedly fuming at the move, although the government is reportedly trying to soften the blow by saying that the tax rate will only last for two years.
The government has made it clear that the middle and working classes will not be badly affected by the budget. "With constant incomes, nine out of 10 French taxpayers will not be affected by the tax increases," said the French Prime Minister Jean-Marc Ayrault, according to AFP.
According to the latest unemployment figures, France has more than three million out of work, the country's highest figure of recent times. Its economy has been largely stagnant for the last three years.
Even the government's modest growth rate of 0.8 percent projected for the year is considered ambitious by experts.
Ayrault defended the projection, telling France 2 Television that it is realistic and within reach. "This budget is about struggle, about reconstruction. If we abandon the (3 percent) target, our interest rates will rise immediately."
Critics say there is a huge risk ahead for the government in presenting a balanced budget.
"It's a big risk, because it's possible that, as they try to reduce government spending and return to a balanced budget, they have a negative impact on growth," an associate professor at Paris' Sciences Po University, Christopher Bickerton, told Reuters.