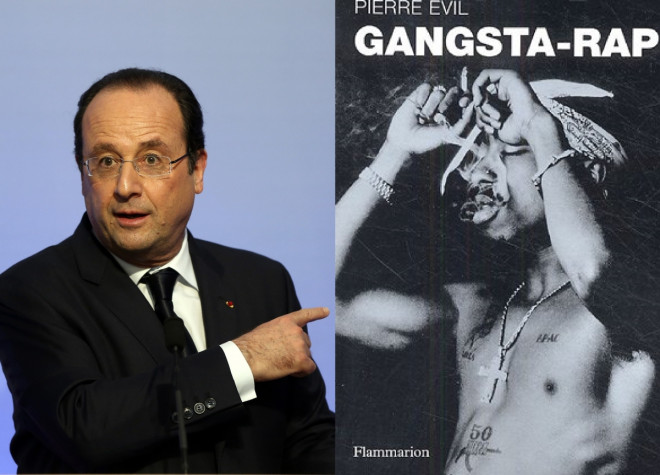 Facing the lowest approval rates for a president in modern French history, Francois Hollande is to hire a gangsta rap expert as his new speech writer.
Sources close to the Elysee palace confirmed to AFP that Pierre-Yves Bocquet, 40, has been chosen by the president to help him pen his speeches.
Hollande's new "plume", as ghost writers are known is France, has a more than adequate CV for the delicate job.
He is a graduate of France's top school for civil servants, the École Nationale d'Administration, which past alumni include former presidents Valéry Giscard d'Estaing and Jacques Chirac as well as Hollande himself, and has been working with the French government since the 1990s
Described as "meticulous and methodical" by his colleagues in the administration, Bocquet has been leading a second life as music journalist under the pseudonym of Pierre Evil, Le Monde reported.
in 2005 the author penned a book titled Gangsta Rap and is said to have a weakness for the often politically incorrect rhymes of US rappers like Tupac Shakur, Ice-T, Notorious B.I.G. and Snoop Dogg.
"This book is the story of a fascination. The fascination which has gradually entered the world from the late 1980s and saw a handful of post-adolescents from the worst ghettos of America," Gangsta Rap's inscription read.
French journalist and Musician Fred Hanak said Evil, aka Bocquet, was the Jacques Chirac of Rap critics.
"He knows very well American rap," Hanak told Le Monde. "But he is totally disinterested in French rap. He is a little like the Jacques Chirac of Rap critics: old school, excellent in foreign politics but terrible in internal affairs."
Bocquet would not comment on his journalist alias but told the French newspaper his work prevents him from stating "personal and political expression on behalf of the president."
"The only person who writes François Hollande's speeches is François Hollande. My role is only to help him prepare them," Bocquet said.