A truck driver dumped a massive load of manure outside France's National Assembly in protest against President Francois Hollande and the political establishment.
The man drove up to the lower house of parliament, situated on the famous Quai d'Orsay on the southern bank of the river Seine in the French capital, opened the rear door and dumped several tons of the smelly cargo.
"Hollande and the whole political class out!" read a slogan sprayed on the truck.
Police arrived swiftly at the scene, covered the message with a white banner and arrested the man, who has not been named.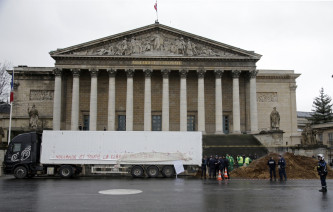 It is not clear what sparked the man's anger at the president and fellow politicians.
Hollande is the least popular president in modern French history, with voters' approval rating currently as low as 26%, according to opinion polls.
His presidency has been shaken recently by claims he has been secretly dating actress Julie Gayet, 41, unbeknown to his official partner, first lady Valérie Trierweiler.
The love scandal, however, apparently did not add to the public's already poor perception of Hollande, with polls showing that the majority of French voters believe the President's love life is a private matter.
The socialist leader has been under fire over weak economic growth, high taxes and rising unemployment.
He was booed and hissed by protesters during a ceremony marking the end of World War I at the Champs Elysees in November.