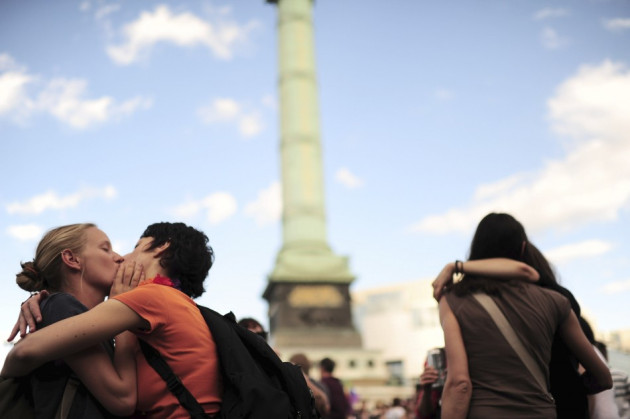 France's parliament has legalised same-sex marriage and given gay couples equal adoption rights after months of heated public debate.
France has become the 14th country in the world to allow gay marriage after the National Assembly in Paris approved a bill pushed by socialist president Francois Hollande. The vote was carried 331-225.
"This law doesn't serve a minority of people but the whole society as everyone will finally enjoy the same rights, regardless of sexual orientation," said MP Bernard Roman.
"I definitely love April 23. And this one even more #historic day #equalityforall (#égalitépourtous)" tweeted Hollande's partner, Valérie Trierweiler.
The bill had been fiercely opposed by conservative and Catholic groups, particularly in their rural strongholds.
"In the name of what principle do we arrogate ourselves the right to deprive children of having a father and a mother?" Jean-Christophe Fromantin of the centre-right Union of Democrats and Independents told the assembly ahead of the vote.
Hervé Mariton of the Union for a Popular Movement (UMP) accused the government of "shattering the happiness of filiation" and of "lighting up the fuse of homophobia".
Violent attacks against gay couples spiked in recent weeks and and some lawmakers were threatenedover the bill. The speaker of the lower house, Claude Bartolone, received a letter earlier this week filled with gunpowder, demanding he stop the vote.
Some 340,000 people rallied against the bill in Paris in January and since then other demonstrations on both sides have been held across the country.
According to opinion polls 55-60 percent of French support same-sex marriage, but about the same number opposes adoption by same-sex couples.
Exceptional security measures were taken outside the assembly as the bill was discussed.
The bill is to be vetted by the constitutional council and signed into law by Hollande. Justice minister Christiane Taubira said the first wedding could be celebrated as soon as June.
"We believe that the first weddings will be beautiful and that they'll bring a breeze of joy, and that those who are opposed to them today will surely be confounded when they are overcome with the happiness of the newlyweds and the families," Taubira said.