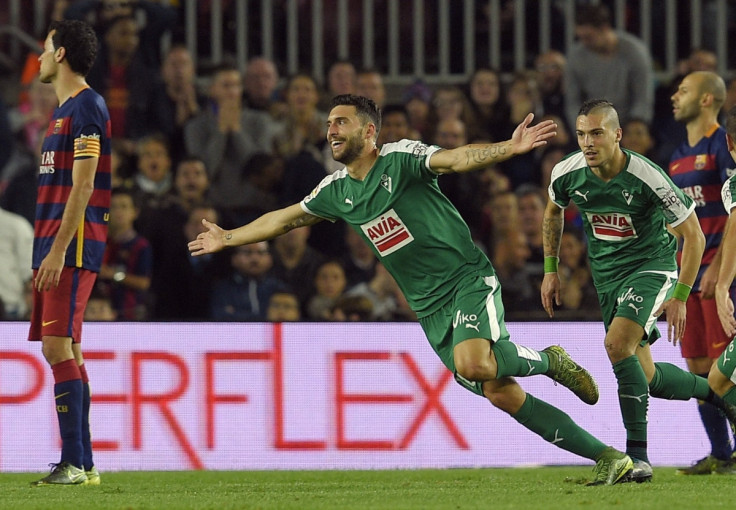 Swansea manager Francesco Guidolin hopes club record signing Borja Baston could finally make his long-expected debut during the Premier League visit of Chelsea on Sunday (11 September). However the Spaniard is still not ready to make the starting line-up as the Italian boss revealed that he is still not training at 100%.
Baston, 24, became the Swansea record signing earlier last month after the Wales side paid Atletico Madrid around £15.3m for his transfer, beating the £12m they paid Vitesse Arnhem for Wilfried Bony in 2013. However, the Spaniard has since failed to make his debut after he sustained a thigh injury during a training session, missing consequently the three first Premier League games of the campaign against Burnley, Hull and Leicester as well as the League Cup encounter with Peterborough United.
Guidolin recently claimed that he hoped Baston could take advantage of the international break to step up his recovery ahead of being available for the game against Chelsea. Now, the boss suggests that the Spaniard is going slower than expected but still could be involved at some point during the visit of the Blues.
"He is working, but he has to go slow (in training) for two or three days. He does not have an injury. I hope to have him available for the bench on Sunday, but I don't know. I am not sure at the moment," the Swansea boss said ahead of the game. "He worked with us last week but he needs some days where he works slowly. He is almost ready to play."
Alfie Mawson may also make his debut against Chelsea after being signed from Barnsley in the dying days of the transfer window. Guidolin, in this sense, hailed the arrival of the Englismen as he believes that the 22-year-old defender is going to surprise more than one fan.
"I like him. He is a young player, but I like him. I think he is almost ready to play in the Premier League," Guidolin added. "It is early to say some things about him, but in training sessions he is like the other players. I think he will be a good surprise for our fans and our club."
The duo are expected to help Swansea to kick-start their campaign after a slow start, having secure only three points from the first three games, with two back-to-back defeats to Hull and Leicester.
"I think we have a good team," Guidolin declared. "I am happy with my players and I think it's important to look to the future with optimism. But it's time to do well on the pitch, because I was disappointed with the last game at Leicester.
"We prepared another game before Leicester, but they played very well in the first half and they deserved to win. We have to change this because the Premier League is very hard, but with my players I am confident. In the last two weeks we have worked hard to prepare for the game against Chelsea. We have not had a lot of players (because of the international break), but I think we have worked well. We have a good group and I think we can do well."
Yet, Guidolin is aware that the visit of Chelsea will be another big test for his side. Yet, he believes that his compatriot Antonio Conte may lead the Blues to the title again following their disappointed last season.
"They are title contenders," Guidolin said. "I think they can win, but I think the same about Manchester City, Manchester United and maybe some other teams. In the Premier League there are four or five very strong teams and Chelsea are one of them. I think they have started well. This is important for a new manager and for the players."