Arsenal have received positive news regarding Francis Coquelin's knee injury with reports suggesting that it is not as bad as first feared. The French midfielder suffered a knee injury during the Gunners' 3-0 win over Chelsea on Saturday (24 September) and the extent of the damage is expected to be confirmed on Tuesday.
Coquelin suffered the injury while performing a block tackle on N'Golo Kante and Arsene Wenger confirmed after the game that it was a similar injury that he suffered against West Bromwich Albion last season which kept him out for close to two months. The midfielder left the stadium with a brace around his knee and the club feared a potential long-term absence once again.
"He has a knee injury in the same place he had last year, that's a negative of the day," Wenger confirmed. "We don't know if the damage is as big at the moment, we have to wait for 48 hours but he left the stadium in a brace. I'm a bit worried over that."
However, French publication L'equipe have dispelled suggestions of a long-term absence and believe that the injury is not as bad as first feared. They expect the Frenchman to return to action in 15 days, which will be a big boost to the manager ahead of crucial fixtures in the Premier League and Champions League.
The 25-year-old has started all of Arsenal's league games thus far this campaign with his form keeping out £35 ($45.4m) summer signing Granit Xhaka from the Gunners first-team. Coquelin is certain to miss the Gunners' Champions League clash against FC Basel on Wednesday (28 September) and their visit to Turf Moor to face Burnley on Sunday (2 September).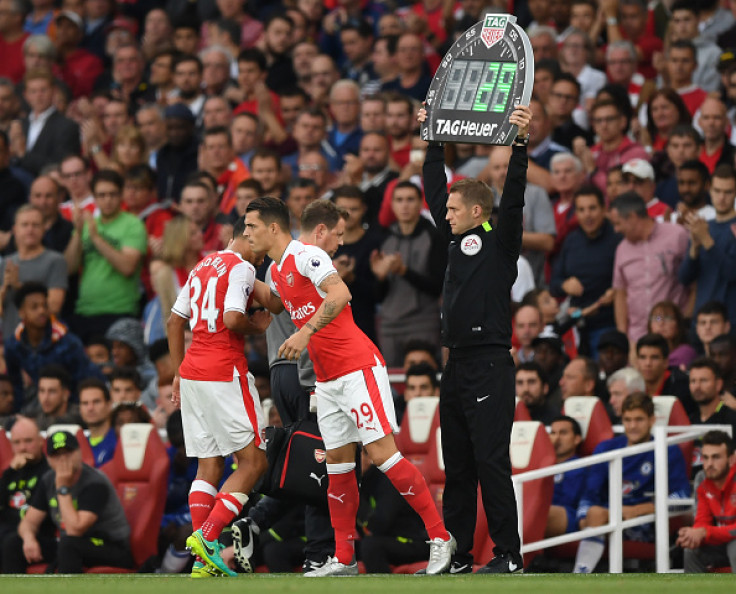 Xhaka, who has also been impressive in the games he has played, is likely to take his place alongside Santi Cazorla for the upcoming games at the heart of the midfield. The 23-year-old former Borussia Monchengladbach midfielder will see this as an opportunity to cement his place in the starting XI for the rest of the campaign.