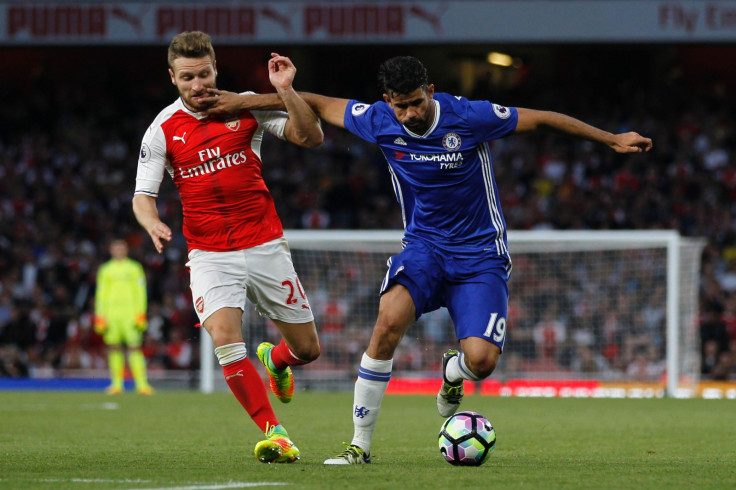 Former Liverpool midfielder Jamie Redknapp has hailed Shkodran Mustafi and Laurent Koscielny as a "great centre-back partnership". The defensive duo provided the foundation for Arsenal's one-sided 3-0 win against Chelsea at the Emirates Stadium on Saturday (24 September) – and Redknapp has praised their performance.
Arsenal won courtesy of first-half goals from Alexis Sanchez, Theo Walcott and Mesut Ozil, with the Gunners playing some eye-catching football en route to an impressive win. However, it was the display of their centre-back partnership that caught Redknapp's attention.
"Arsenal have won plenty of plaudits for their attacking play against Chelsea but I was so impressed with how sound they were defensively," the ex-Liverpool star wrote in the Daily Mail. "Their centre backs have been too easily bullied in recent years by Didier Drogba and Diego Costa. On Saturday afternoon, Shkodran Mustafi wasn't having any of it.
"He showed so much quality alongside Laurent Koscielny and for the first time in a long time it looks like Arsenal have found a great centre-back partnership. The pair are both quick and good in the air. They are strong in both boxes and will threaten from set pieces, too."
Mustafi, 24, joined Arsenal from Valencia for a reported fee of £35m ($45.2m) towards the end of the summer transfer window. Redknapp thinks the German's confidence-boosting display against Chelsea at the weekend ought to encourage Arsenal fans.
"Mustafi hasn't found it easy adapting to the Premier League since his move from Valencia – Saturday was his first clean sheet in an Arsenal shirt – but after this display his confidence should soar," he wrote of the Gunners' new recruit.
Prior to signing Mustafi, Arsenal boss Arsene Wenger admitted he he was unsure whether the German would be a success in the Premier League, despite having been previously played for Everton. "I think he's a good signing but time will tell," Wenger said, according to the Guardian. "He had two years at Everton, he went to Italy, then Spain. But, you know, 19 is a difficult age to play centre-half in the Premier League."