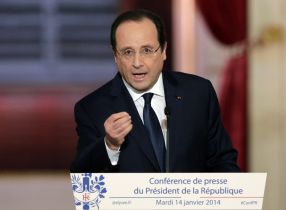 Julie Gayet, the actress alleged to have had an affair with French President Francois Hollande, has had her nomination to sit on a prestigious state institution panel blocked by the government.
Culture Minister Aurelie Filippetti said she will not ratify the appointment of the 41-year-old to become a member of a panel that selects scholarships for the Villa Medici - the French academy in Rome.
"Given her career as an actress and producer, Julie Gayet is definitely qualified for the role," Filippetti said. "However due to the particular situation I will not name her."
Hours earlier, Gayet's name was listed among the judging panel on Villa Medici's website. The page was taken down shortly after it was posted.
A spokesperson for the Ministry of Culture, which must ratify the nominations, said no decision had been made.
Gayet's name was put forward for the unpaid role by the director of Villa Medici, Eric de Chassey, the spokesperson said.
As a panellist she would have helped to select 15 artists to take up cultural scholarships and be hosted at the Villa in Rome for 12-18 months.
Last week Closer magazine published claims Hollande has been dating Gayet, unbeknown to his official partner, first lady Valérie Trierweiler.
Trierweiler was subsequently admitted to hospital "for rest and some tests".
At an annual press conference in Paris, Hollande refused to answer questions on the affair.
"Everyone can go through turbulent times in their private life. It's our case; they are tough moments. But I have one principle: private affairs should be dealt with privately," Hollande said.
Meanwhile, Gayet has decided to sue Closer for breach of privacy, RTL radio reported.
The weekly tabloid printed photos purportedly showing the president and the actress arriving separately at the same time at a flat not far from the Elysee presidential palace in Paris.