Frauke Petry: The 'nice' face of Germany's resurgent far right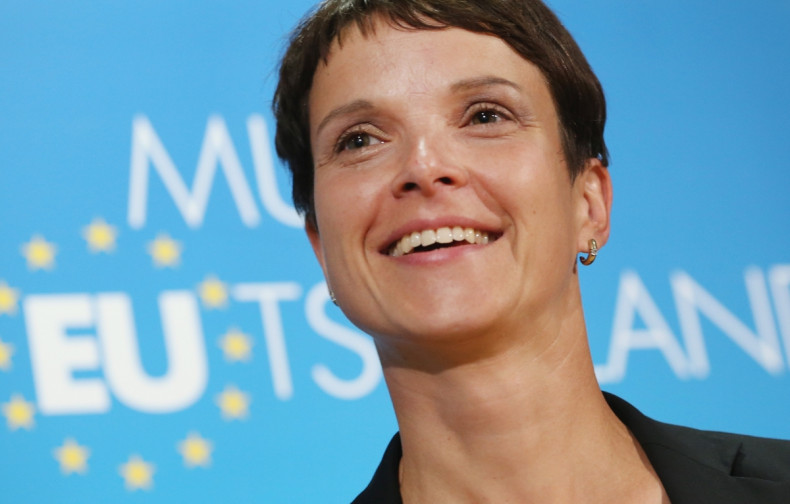 Frauke Petry is the youthful face of a party which in the recently concluded regional elections moved closer to becoming the third most powerful in German politics. Her Alternativ fur Deutschland (AfD) party made sweeping gains, profiting from growing disillusion with Chancellor Angela Merkel's open-door refugee policy.
To supporters the PhD holder and former chemist is one of the few politicians willing to speak the truth about what they regard as the potentially devastating effect of uncontrolled mass immigration to the country.
However, detractors claim Petry's rhetoric invokes some of the darkest passages of German history, and is responsible for creating atmosphere in which hostility to migrants is increasingly spilling over into violent attacks on refugees and refugee shelters.
In January, she called for police to shoot immigrants entering the country illegally, which some compared to the policy of East German border police during the Cold War.
"People must stop migrants from crossing illegally from Austria [into Germany]," she said in an interview with a regional newspaper. "If necessary, [they] should use firearms. I don't want this, but the use of armed force is there as a last resort."
The comments brought her widespread condemnation, and led to the mayor of Ausburg in Bavaria attempting to prevent her speaking in the city's town hall, claiming her comments were unconstitutional.
From industrial chemist to political leader.
Graduating with a degree from Reading University in 1998, Petry worked as an industrial chemist before entering politics, and received Germany's Order of Merit in 2012 for her patented polyurethane tire filler.
Founded as an anti-EU alternative during the height of the Greek fiscal crisis in 2013, AfD was previously dominated by academics and advocated loosening EU ties. Since taking charge of AfD in July 2015, Petry has steered the party towards populist, anti-immigration positions.
The party already has five parliamentary seats, and has strengthened its position, coming third in the state of Hesse with more than 13% of the vote in the elections. In Baden-Württemberg, Rhineland-Palatinate and Saxony-Anhalt the party is expected to claim double digit support in March 13 municipal elections.
Though AfD has in the past attempted to distance itself from the far-right Pegida movement, in recent months it has begun to echo its slogans, describing Merkel as a "traitor", and referring to the 'liar' media. In the municipal elections, the Neo Nazi NPD did not field candidates in constituencies where AfD candidates were standing, leading the AfD to deny they were working together.
The party advocates a conservative social policy in defence of "traditional" Christian values, which it claims will be destroyed by an influx of Muslim immigrants.
Critics warn that Petry's approachability masks a dangerous agenda. Hans Hütt wrote in the leftwing newspaper Freitag: "Petry's smile is a code. Every smile and grin gives the rank and file a signal: the others' arguments are rubbish … [it] brings the terror back into German politics. It looks so nice, so outrageously nice."
It is not just her controversial rhetoric that has made headlines in Germany, with Petry's recent split from her husband, pastor Sven Petry with whom she has four children, and relationship with former party member and MEP Marcus Pretzell gaining widespread coverage.
Reflecting growing unease at the rise of the AfD among mainstream parties, Merkel criticised the party ahead of the regional elections, claiming it stirs up prejudice and polarises society. Though support for the chancellor remains strong in her centre-right CDU for the time being, there is no doubt Petry has revived the fortunes of the AfD.