Corporations and banks around the world can find a middle ground in retaining talent and incentivising staff, without antagonising the public or lawmakers over bumper reward schemes, by making staff believe the firm and what they do is one of the most important things in the world, said co-author of Freakonomics Steven Levitt.
Speaking to IBTimes UK at the Xactly CloudComp14 conference in San Francisco, California, influential economist and straight-talking Levitt said that huge salaries or cash rewards is not enough to keep employees happy or to keep them being as optimal as possible in a work environment.
"Maybe I am crazy but, through all of my experience, I have found that the best firms don't just pay fairly but they brainwash employees. What I mean by this is by creating loyalty from the very outset and making staff believe in what they are doing is really, really important", said Levitt, who is also the William B. Ogden Distinguished Service Professor of Economics at the University of Chicago.
"Google is a prime example of this. They have created true believers in the company and what they do- before they became super rich. The best corporate engagement is not governed by high salaries or simply bonuses, but it's also about giving them a 'warm glow'.
"From the very beginning, they believed and bought into the company and what they were doing as a job.
"The most dangerous way to incentivise staff is actually through stock and ownership in many cases as if something goes wrong, employees' equity or options become worthless and it all unravels."
'Sometimes the Most Simple Idea is the Most Radical'
Levitt became famous for co-authoring Freakonomics with Stephen Dubner which went onto sell four million copies worldwide and topped the New York Times Best Seller list for two years.
The duo then went onto write SuperFreakonomics and, most recently, heir latest book called Think Like a Freak.
Through his research, he found that there were a number of studies that showed staff productivity improved within companies through a combination of cash and personal acknowledgement.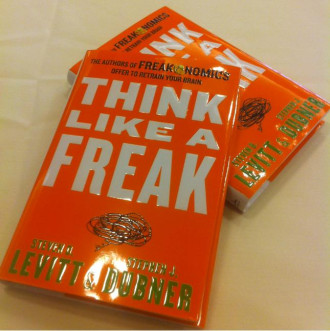 "There was a study that showed that when employees were rewarded a five euro note or a personal note saying 'well done', it didn't do much to change behaviour, "said Levitt, who is a Harvard graduate and received his Phd from the Massachusetts Institute of Technology (MIT).
"However, when staff were given an origami folded five euro note and a written note, productivity went through the roof. Money by itself is not important enough as there is a huge effect from interaction. If a boss can show that care through rewards, it can boost staff performance."
Levitt is one of the world's most influential economists and was named by Time magazine as one of the'100 People Who Shape Our World'. In 2004, he was awarded the John Bates Clark Medal, for the most influential economist under the age of 40.
One of the key elements from Levitt's thoughts on incentives is that sometimes the most obvious answer can be the best idea in transforming company performance as well as the ethos from the conference that you need to cut through the noise and reams of data to get to a simple, yet gamechanging solution.
"The closer you are [to company behaviour or data], the more likely it is harder to get to the right questions," said Levitt.
"Sometimes you need somebody to come to the company and to ask basic questions in order to challenge why a firm has been doing a certain thing for 20 years."
Don't forget to check out IBTimes UK for more coverage from Xactly's CompCloud 2014 event in San Francisco.