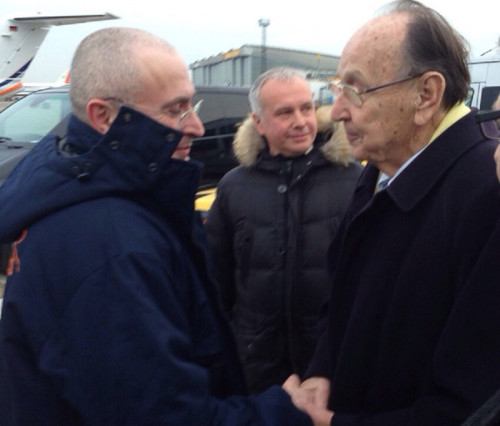 Former oligarch and Kremlin critic Mikhail Khodorkovsky has arrived in Germany after he was freed from jail in a surprise move by President Vladimir Putin.
Khodorkovsky landed at Schoenefeld airport in Berlin where he was welcomed by ex-foreign minister Hans-Dietrich Genscher.
In a letter to supporters, the 50-year-old enemy of Putin said he had asked for his pardon because of family issues but had not admitted guilt.
"On November 12, I asked the president of Russia to pardon me due to my family situation, and I am glad his decision was positive," Khodorkovsky said. "The issue of admission of guilt was not raised."
Khodorkovsky, who was Russia's richest man and the head of oil giant Yukos before being arrested in 2003, was due for release in August 2014.
"I would like to thank everyone who has been following the Yukos case all these years for the support you provided to me, my family and all those who were unjustly convicted and continue to be persecuted," Khodorkovsky said.
"I am very much looking forward to the minute when I will be able to hug close ones and personally shake hands with all my friends and associates."
The tycoon was freed from his prison camp in Petrozavodsk, northwest Russia, after Putin signed his pardon citing humanitarian reasons, as Khodorkovsky's mother is ill.
He boarded a private Berlin- bound jet. The German embassy in Moscow helped him to leave Russia, the foreign minister said.
He had described the trial as a sham and an attempt to "destroy the reputation of the judicial system and trust in this state institution merely for the sake of extending a prison term for opponents of the authorities".
The oligarch and his business partner Platon Levedev were convicted for tax evasion in 2005. The trial was widely seen as political, since Khodorkovsky was arrested shortly he fell out with Putin.
Khodorkovsky had been funding opposition parties and had publicly challenged Putin's authority when he criticised the president's handling of state corruption during a televised debate.
In 2010, as the terms of their first sentence were about to expire, Khodorkovsky and Lebedev were handed another 13 years in jail for stealing oil and laundering money.
"I am constantly thinking of those who continue to remain imprisoned," he said after regaining freedom.
"First of all I am going to repay my debt to my parents, my wife and my children, and I am very much looking forward to meeting them."