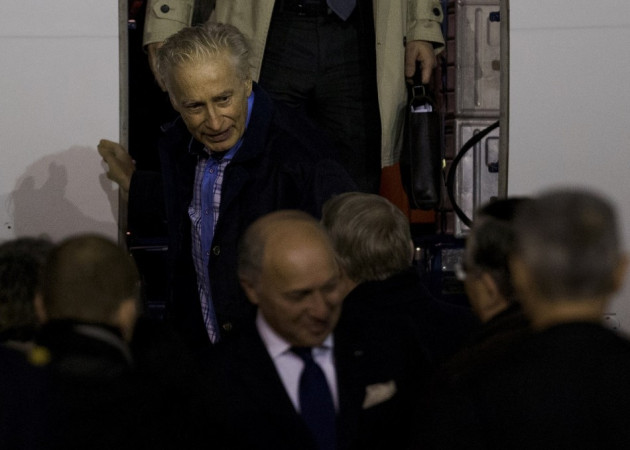 A 63-year-old French engineer, whose escape from his captors in northern Nigeria has been likened to a James Bond movie, has returned to a hero's welcome in France.
Francis Collomp was welcomed by Prime Minister Jean-Marc Ayrault on the tarmac of Paris Villacoublay military airport a day after his daring escape ended an 11-month captivity.
"At first I didn't recognise him - he has slimmed down so much," Collomp's wife, Anne-Marie, who lives on the French island of La Réunion, told BFM TV. "He looks really tired but happy.
"He called me yesterday night and told me he lost almost 40kg during imprisonment. He asked me if our dogs were doing fine."
Collomp who suffers from a heart condition and reportedly had triple-bypass surgery some years ago was kidnapped on the day of his 63rd birthday in December 2012.
Thirty Islamist gunmen stormed his home in the north Nigerian state of Katsina, killing a security guard and a neighbour in the raid.
Collomp, who worked for French wind turbine manufacturer Vergnet, was taken hostage. Ansaru, a spin-off of militant Islamist group Boko Haram, claimed responsibility.
Nigerian authorities said that Collomp was held in the northern city of Kano for nine months before moving 150km southwest to the city of Zaria.
Daring escape
"He started preparing his breakout as soon as he was thrown in his tiny cell," Collomp's brother Denis told TF1 television.
Over the months, Collomp slowly loosened the wire that was was used to lock his cell door. While his captors were praying he managed to slip out of his cell and locked them in the prison house to make his escape.
"He walked four or five kilometres before stopping a motorcycle taxi who took him to the nearest police station," Denis Collomp told I-Tele television.
Le Parisien newspaper compared Collomp's escape to 007 movie and President Francois Hollande said his bid was suitable material for an adventure novel.
"This man has shown exceptional courage," Hollande said. "Not only because he was held hostage for almost one year but also because he managed to seize an opportunity [to regain freedon] at the risk of his own life."
Boko Haram and Ansaru were formally designated as foreign terrorist organisations by the US earlier in November.
Boko Haram fights to impose Islamic sharia law throughout Nigeria and has carried out numerous kidnappings and terrorist attacks in recent years. Almost 2,000 people have been killed since 2010.