French Jewish group distributes Antisemitox - 'a pill to cure anti-Semitism'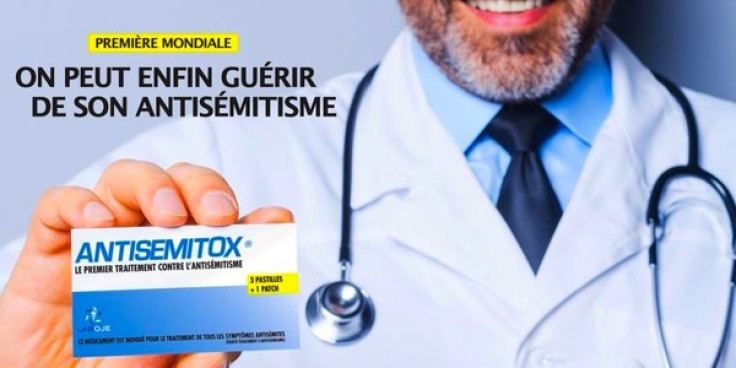 A Jewish organisation is using humour to battle France's rising tide of anti-Semitism.
The Organization of Jewish Europeans (OJE) has started to distribute boxes of Antisemitox: the first treatment against anti-semitism.
They contain three sweets, several detox patches and the text of the law stating the penalties faced by those who express anti-semitic views.
The poster for the campaign shows a doctor wearing a white coat and a stethoscope, brandishing a packet of the pills.
"The honey candies contained in the packages work to immediately soften the anti-Semitic words and behavior that are the first symptoms," the organisers of the campaign said in a statement.
"These include insults, curses, aggressive behavior, hallucinations, and quenelles [a Nazi-style salute popularised by a comedian convicted of racist crimes.]"
In recent months, there has been a surge of anti-Semitic attacks in France, with government figures showing the number of anti-Semitic incidents has more than doubled this year.
According to the Jewish Agency in France, the number of Jews emigrating from France to Israel had also more than doubled in the first ten months of 2014.
After a recent anti-Semitic attack on a Jewish couple in Creteil, in which a woman was raped, French interior minister Bernard Cazenueve said the government would defend France's Jewish community "with all its force".
The OJE head, Jean-Claude Zaret said that humour could be used employed to combat prejudice.
"We talk a lot about Jewish humor, so why not use it to protect the Jewish community?" he said.
He told TV5Monde: "It was, for a few thousand years, our spirit to caricature ourselves and find solutions that are a little out of the ordinary [...] If we can explain to people that the Anti-Semitism is a pathological disease, punishable by law, it could reassure the community that is afraid."
The boxes are being sold for €5, with the money being donated to charities that fight anti-Semitism.
© Copyright IBTimes 2023. All rights reserved.