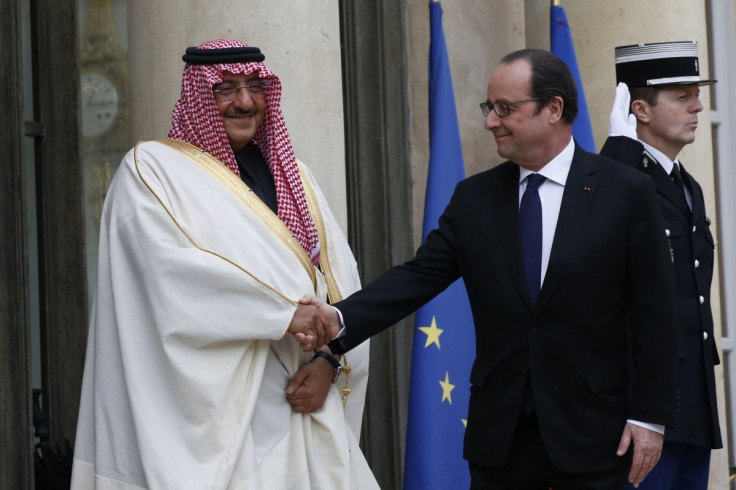 France's new foreign minister Jean-Marc Ayrault has justified the fact that President Francois Hollande awarded the Legion d'Honneur, the country's highest honour, to Saudi Arabia's crown prince Mohammed bin Nayef – by saying it was a 'democratic tradition'.
The French government, which was one of the vocal opponents of the recent mass executions that took in Saudi Arabia recently, awarded the visiting Nayef in a relatively low-key fashion. The French presidential office did not release any statement on the Saudi royal's visit, which took place on 4 March.
The move sparked sharp criticism on social media from opponents to the death penalty, and the hashtag #honte (shame) was trending on Monday (7 March). On New Year's Day, Saudi Arabia executed 47 prisoners, including prominent Shia cleric Sheikh Nimr al-Nimr, after he was found guilty of a number of terrorism-related charges in 2014. A man was beheaded on Sunday in Saudi Arabia's 70th execution so far this year.
'A democra ... diplomatic tradition'
Speaking to France Inter radio on Monday (7 March) morning, Ayrault, who succeeded Laurent Fabius who announced he was stepping down as part of a cabinet reshuffle in February, Ayrault first evoked peace in Syria, before stammering that the award is "a democra ... diplomatic tradition."
He added later in the interview: "There are sometimes diplomatic traditions that can surprise, so treat it as such." An aide to the president said Nayef, who is the Saudi interior minister, received the honour as a "foreign individual, a common protocol practice" and the prince was cited for his "efforts in the fight against terrorism and extremism".
Relations between the two countries have been healthy, and France's government has been waging a robust diplomatic engagement with the kingdom for years.
In October 2015 it was revealed the French Prime Minister Manuel Vallshad signed €10bn euro worth of contracts on with Saudi Arabia. Deals mainly concerned the fields of aerospace and military.