French police use tear gas and water cannon to end protest at Calais' Jungle camp
Around 200 migrants and activists were involved in the three-hour stand-off near the jungle camp.
French police deployed tear gas and water cannon to quell a protest by around 200 migrants and 50 activists outside a migrant camp near Calais known as 'the Jungle' on Saturday (1 October).
Reuters reported the demonstrators had attacked police with rocks.
Between three and five police officers and a photographer from the French press agency AFP suffered light injuries during the disturbance, reported RFI.
The number of injured protesters is not known.
Demonstrators waved Union Jacks and held up signs asking the UK's Prime Minister Theresa May to allow migrants in the Jungle to enter the UK.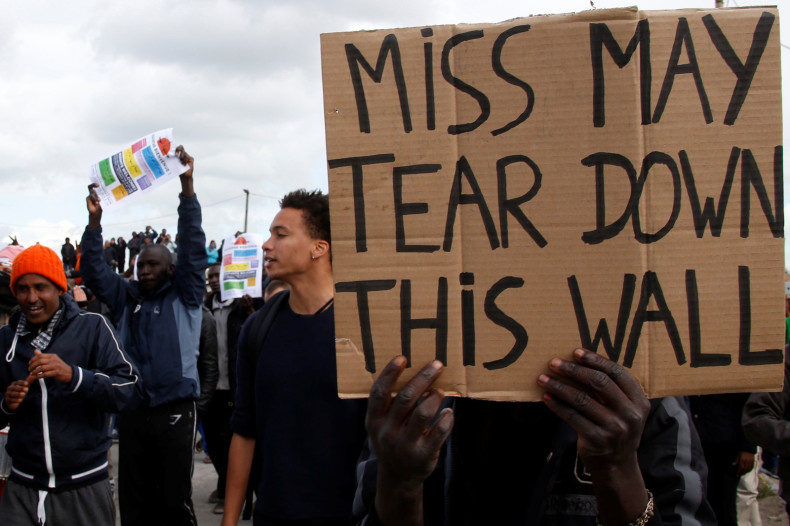 The confrontation came after local authorities banned gatherings at the migrant camp, in which 7,000-10,000 people live in squalid conditions, to prevent public order disturbances.
The demonstration was organised by the Coalition Internationale des Sans Papiers et Migrant (CISPM) – a group of activists, who support migrants and refugees in France.
Another 150 protesters were prevented from joining the march by French police. The group, travelling in four coaches, were stopped at a roadblock about 30 miles from Calais.
President Francois Hollande has said that the Jungle will be demolished by the end of the year, and its residents sent to refugee centres across France.
Charities have reported that incidents of self-harm and depression amongst children in the camp have increased, since Hollande's plan was announced.