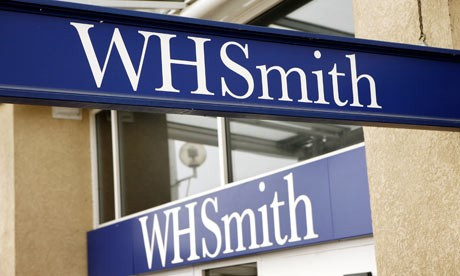 Shares in WH Smith were down on the FTSE 250 in Thursday morning trading after the retailer reported a rise in profit in the full year ended 31 August 2011.
Total group pre-tax profit in the period rose from £89 million in the previous year to £93 million. The group's Travel division saw a "record" performance with operating profit up eight per cent to £57 million.
On the high streets, WH Smith stores reported an increase in operating profit of two per cent to £52 million.
During the period the group returned £50 million to shareholders through its share buy back programme announced in August.
Following the results WH Smith said it would be raising its total ordinary dividend by 16 per cent to 22.5 pence per share.
Kate Swann, chief executive of WH Smith, said, "We have delivered a good performance across the group, despite a challenging trading environment, with further profit growth from high street and record profit in travel.
"We have seen another year of strong cash generation from both businesses and this is reflected in a 16% increase in the full year dividend and a further return of cash to shareholders.
"The economic conditions remain challenging, however we have planned accordingly. We are a resilient business with a strong and consistent record of both profit growth and cash generation and have opportunities for growth in both the UK and internationally."
Keith Bowman, equity analyst at Hargreaves Lansdown Stockbrokers, commented, "The group's reputation for consistent if somewhat unexciting growth continues to be enhanced. Profits are bang in line with forecasts. A concentration on profit margins at the expense of sales is serving the company well. The sales mix is being rebalanced towards core categories and away from entertainment products, while the travel business continues to be expanded both here and overseas.
"On the downside, accompanying management comments have again expressed caution, whilst a pending change of management raises some uncertainty.
"In all, WH Smith appears to remain a safe port in a storm. The group's low cost ticket items continue to appeal, while its cash generative nature supports both a progressive dividend policy and a growing share buy-back scheme. As such, market consensus opinion remains highly favourable (strong buy)."
By 08:25 shares in WH Smith were down 1.42 per cent on the FTSE 250 to 520.00 pence per share.