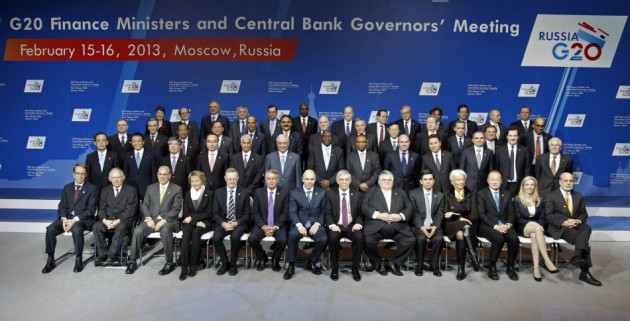 The G20 group of nations has refrained from criticising Japanese policies to devalue the yen against the world's other major currencies, according to a leaked draft communiqué from the summit in Moscow.
The yen tumbled again after the news, falling 1.5 percent against the dollar. The Japanese currency has fallen by 15 percent against the dollar since November while the euro has gained over 5 percent against the greenback in the past four months, raising concerns of a currency war.
The central bankers and finance ministers from the developed and emerging nations have gathered in the Russian capital to discuss international economic and financial issues. They have ruled out a 'currency war', but stopped short of urging nations not to target exchange rates to achieve fiscal competitiveness.
However, the group underlined its commitment to refrain from competitive devaluations while sparing Japan for its aggressive fiscal and monetary policies, reported Reuters, which has seen the draft communiqué.
The draft also states that monetary policies should be directed at price stability and growth, a statement more or less in line with the earlier statement from the G7 nations of the United States, Britain, Canada, France, Germany and Italy - but not Japan.
"The G7 made a very clear statement this week. I think you'll see the G20 echo what was said, and say that currencies should not be used as a tool of competitive devaluation," Britain's finance minister George Osborne said in Moscow.
"The language has been strengthened since our discussions last night. It's stronger than it was, but it was quite clear last night that everyone around the table wants to avoid any sort of currency disputes," the Canadian Finance Minister Jim Flaherty told reporters.
"We all agreed on the fact that we refuse to enter any currency war," said French Finance Minister Pierre Moscovici.
The final statement is expected later in the day. Meanwhile, Japanese Prime Minister Shinzo Abe will meet US President Barack Obama on 22 February, the White House has confirmed.