G7 summit: Japanese PM Shinzo Abe and world leaders visit Shinto shrine ahead of meeting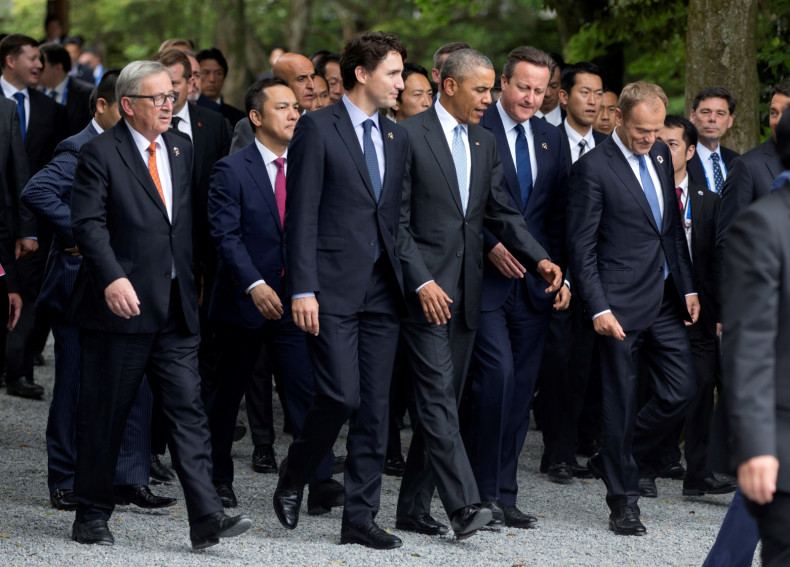 The Group of Seven leaders were taken on a spiritual journey ahead of the 42<sup>nd G7 summit in Japan, led by Japanese Prime Minister Shinzo Abe. All seven heads of state accompanied Abe to Ise Jingu, the country's most sacred shrine in the Shinto religion, early on Thursday (26 May) – amid fears that the visit could spark controversy for mixing religion with politics.
Abe's government has structured the summit in a way that will help Japan's "leadership in guiding the world by showing the best path forward for peace and prosperity," the AP reported.
Abe said that he hoped that a visit to the shrine by British Prime Minister David Cameron, US President Barack Obama and other leaders will provide them a deeper insight into Japanese culture. But, according to the report, critics have said that this oft-regarded 'holy trip' could be an attempt to further Abe's conservative political agenda with top economies of the world.
However, a Japanese Foreign Ministry spokesperson cleared that the shrine visit was not intended to perform any religious rituals, but only to give the leaders a sense of "air, water, nature and atmosphere". Abe had visited the shrine a day earlier to offer prayers for a good summit.
Earlier on Wednesday (25 May), British Prime Minister David Cameron met US President Barack Obama and Abe to discuss the UK's proposed exit from the European Union. The leader of the Conservative Party even said that all other six leaders shared their views on a Brexit and hinted that it could damage world economy if Britain exits EU.
Who is attending the G7 summit, and what will they discuss?
The two-day summit brings together Germany's Chancellor Angela Merkel, French President Francois Hollande, Canada's Prime Minister Justin Trudeau, and Italian Prime Minister Matteo Renzi, along with Cameron, Obama and Abe.
They will discuss a wide range of topics, including, international terrorism, refugee crisis, global economy and trade, climate change, women empowerment, development, health, and Beijing's claim in the South China Sea. Although China does not represent the G7 group, its involvement in the domination of other Asian governments will be discussed.
The European Council President, Donald Tusk, is representing European countries to discuss the refugee crisis in the region, seeking international support to ease the tension with migrants and asylum seekers.
High security
Nearly 23,000 security forces have been deployed around the area to ensure all goes well at the summit. Restaurants and other businesses in the vicinity will remain shut during the meet. According to the Guardian, some schools too have cancelled classes to avoid congestion due to traffic restrictions.
Spouses programme
At the meeting, first lady of Japan Akie Abe is set to take spouses of all the leaders to nearby Mikimoto Pearl Island in Toba. They will also watch a demonstration laid on by Japan's female free divers.