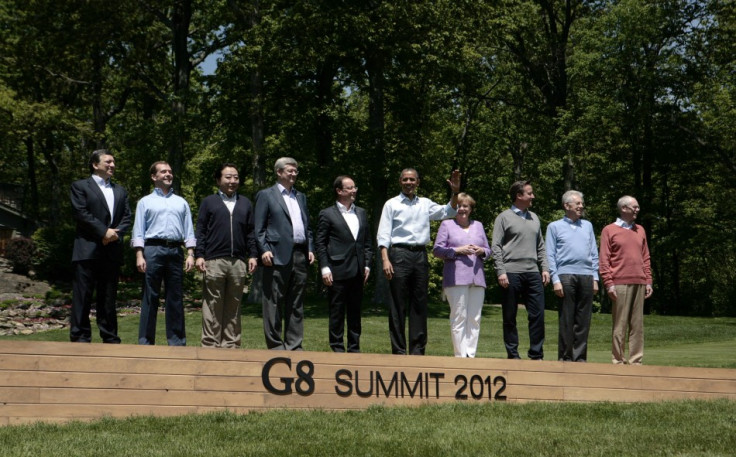 Leaders of G8 countries at the Camp David summit pledged Saturtday to save troubled Greece and to tackle the eurozone crisis on a war footing.
There was consensus among all the leaders on the measures that need to be taken against the collapsing economy around the world.
"Our imperative is to promote growth and jobs. The global economic recovery shows signs of promise, but significant headwinds persist," said a joint statement released by the leaders after the summit at the presidential retreat in Maryland.
The summit, hosted by President Barack Obama, was attended by British Prime Minister David Cameron, German Chancellor Angela Merkel, new French President Francois Hollande, Japanese Prime Minister Yoshihiko Noda, Canadian Prime Minister Stephen Harper, new Russian Prime Minister Dmitry Medvedev and Italian Prime Minister Mario Monti.
"We welcome the ongoing discussion in Europe on how to generate growth, while maintaining a firm commitment to implement fiscal consolidation to be assessed on a structural basis. We agree on the importance of a strong and cohesive eurozone for global stability and recovery, and we affirm our interest in Greece remaining in the eurozone while respecting its commitments," added the statement.
The leaders have also called for structural reforms in various sectors including education and infrastructure, to raise productivity and growth.
In addition to the euro zone crisis and the recovery of global economy, the summit addressed a whole range of issues including energy and climate change policies, food security and nutrition, especially in African nations; developments in Afghanistan after the NATO troop pullout; the political transition in the Middle East and North Africa and the turmoil in Syria and Libya.
The leaders played down differences. Obama and Cameron were seen contradicting the stand of Merkel. Reuters quoted Merkel as saying: "Solid finances and growth belong inseparably together and should not be put into contrast."
The U.S. was seen more inclined towards French-led growth policies whereas Merkel remained a loner in supporting austerity measures for improving the economy.
Most of the leaders are heading for Chicago for the NATO summit on Sunday and Monday immediately after the G8 talks.