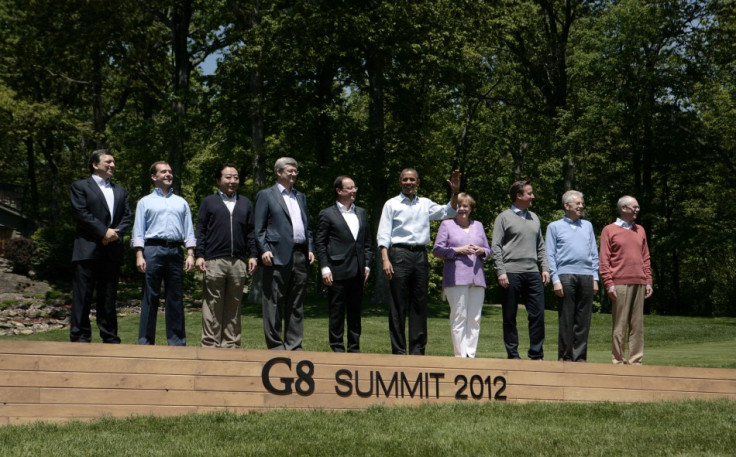 Although rescuing the euro zone was the top priority of the G8 summit at Camp David, Md., a broad swathe of decisions emerged at the talks. These included issues related to energy and climate change, food security and nutrition, especially in African nations; Afghanistan after the NATO pullout; the political transition in the Middle East and North Africa and the turmoil in Syria and Libya.
Here are top 10 outcomes of the summit, according to the official communique:
Euro zone crisis and global economy
Promoting growth and creating jobs the immediate priority. Focus on education, infrastructure and investment.
Greece turmoil
Retaining Greece in euro zone essential to prevent crumbling of the EU bloc.
Energy
Further steps to remove obstacles to the evolution of global energy infrastructure; to reduce barriers and refrain from discriminatory measures that impede market access; and to pursue universal access to cleaner, safer, and more affordable energy. Commitment reaffirmed to principles on global energy security adopted by the G-8 in St. Petersburg, Russia.
Oil prices & Iran
Over the past few months, global oil supply has been badly affected since the U.S. and EU imposed sanctions on Iran to pressure on the country to curtail its nuclear programme. The summit agrees to increase productivity and urges the International Energy Agency to take suitable steps to deal with the growing demand.
Climate Change
Support pledges itself to carbon dioxide and greenhouse gas emission reduction efforts, comprehensive action to reduce these pollutants, which, according to UNEP and others, account for over 30 percent of near-term global warming as well as 2 million premature deaths a year. G8 decides to promote efforts to rationalise and phase out inefficient fossil fuel subsidies which encourage wasteful consumption.
Food Security and Nutrition
Summit recommits itself to working together to reduce poverty. It recognises that the task is also to foster the change that can end it, by investing in Africa's growth, its expanding role in the global economy, and its success. Summit guarantees to fulfil the outstanding financial pledges of the L'Aquila 2009 summit while addressing food security and nutrition in Africa.
Afghanistan
Commitment reaffirmed to a sovereign, peaceful, and stable Afghanistan, with full ownership of its own security, governance and development and free of terrorism, extremist violence, and illicit drug production and trafficking. Continued support for transition process with close coordination of security, political and economic strategies.
Middle East and North Africa
According to the summit, strong and inclusive economic growth, with a thriving private sector to provide jobs, is an essential foundation for democratic and participatory government based on the rule of law and respect for basic freedoms, including respect for the rights of women and girls and the right to practice religious faith in safety and security.
Bloodshed in Syria
Summit expresses outrage over loss of life, humanitarian crisis, and serious and widespread human rights abuses in Syria. Leaders deeply concerned about threat to regional peace and security and humanitarian despair caused by the crisis and resolve to consider further U.N. measures as appropriate.
Tackling security threats
G8 nations urge Iran to seize the opportunity of the Istanbul talks and start complying with U.N. resolutions. Iran and other nuclear nations will hold the second round of talks in Baghdad later in May.
Leaders warn North Korea to halt its provocative actions including its uranium enrichment programme.
The summit recognises changes in the political climate in Burma after opposition leader Aung San Suu Kyi's entry into parliament.
The next meeting of G8 leaders will be held in the United Kingdom in 2013.
Read the full joint statement here.