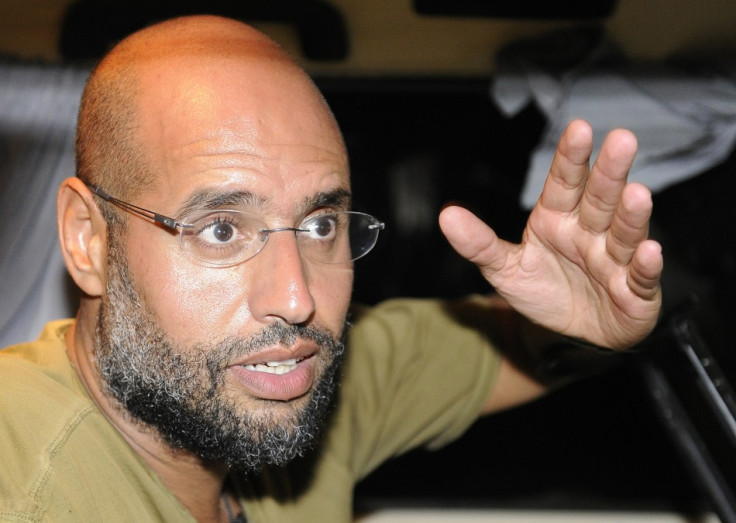 Muammar Gaddafi's eldest son and heir, Saif al Islam, was a philander who used to beat his ex-wife, it has emerged in an Ukrainian newspaper.
In an interview with the daily Respublika shortly before Saif was captured in Libya's southern desert, a Ukrainian woman who claims to be his former wife said she met the playboy son of the ousted dictator when she worked as a stripper at a top Moscow nightclub.
Nadia, who is currently sheltering herself and fears for her life, also claimed she had to fly to Paris to have an operation to "restore" her virginity prior to marrying Saif.
"The doctor proved my innocence in the presence of Saif's aunt. Then I embraced Islam," she said.
"I tried to have a normal family, but Saif wanted to live as a single man with lovers and orgies," she is quoted as having said.
However, there is no proof of her claim to have married and divorced Saif after two years, according to the paper.
"Our house looked like more as bordello: a lot of his friends and a lot of women," she said.
"We got married under religious traditions, I embraced Islam for that, but nobody treated me as the mistress of the house.
"There was no respect at all. My husband tried to make me a submissive Eastern woman and I couldn't stand that attitude.
"That broke me, ate me from inside. And, what's more important, Saif took drugs and he couldn't control himself when he was under narcotics."
The relationship finished after a fierce argument between the two in a restaurant, which ended with him beating her and throwing her out of a window, Nadia claims.
She was in coma for 47 days, but miraculously recovered.
Nadia - it is not known if this is her real name - is apparently in hiding in the Crimea, where she said she is fearful of his enemies. 'I don't know any secrets, but still I'm scared,' she said.
This latest development came as new details have emerged regarding stories about Muammar Gaddafi engaging in orgies and rape. Safia, the woman who said Muammar Gaddafi raped her for five years, confessed the shadow of the colonel will haunt her forever.
"Gaddafi destroyed my life," Safia, 22, allegedly told a correspondent in Tripoli, working for the French newspaper Le Monde.
"I wish he were not dead so he could be tried by an international court," she said.