Which? Tech Daily has recently conducted a series of tests revealing the battery endurance of a few flagship smartphones of market leading tech majors.
Samsung's newest, the Galaxy S4, which has been reported to be the fastest smartphone, was tested against its rivals such as Xperia Z, Nexus 4, HTC One, BlackBerry Z10, iPhone 5 and Nokia Lumia 920. The Galaxy S4 performed fairly well in each field and was the top performer.

It should be noted that the battery tests were conducted with the screen brightness of all handsets set to same readable level rather than the maximum level of brightness and the internet use test was noted over the 3G network.
To begin with the talk time test, the Galaxy S4 running with a 2, 600mAh battery grabbed the first position in the test by offering highest talk time for 1051 minutes. Nokia's Windows Phone 8 running Lumia 920 delivered the lowest talk time for 444 minutes. The Xperia Z, which uses a 2, 330mAh battery survived for 985 minutes in the same test.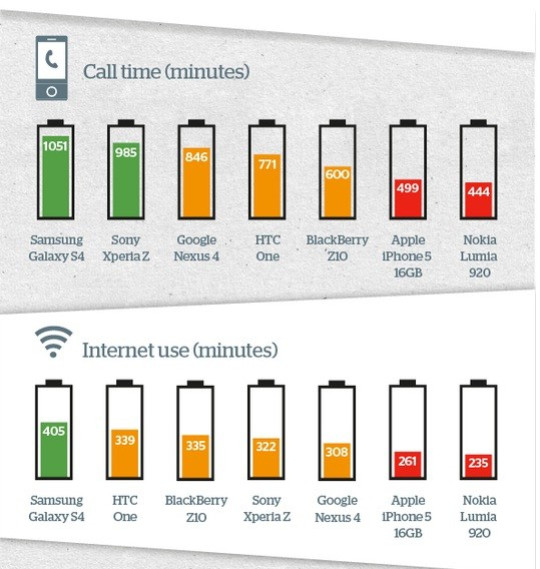 It is surprise to see the web browsing test results were similar once again with the Galaxy S4 retaining the first place while offering browsing life for 405 minutes and the Lumia 920 with the least browsing time of 235 minutes. However, this time the HTC One occupied the second position in the test with the internet use of 339 minutes. There is a marginal difference between the browsing time offered by the HTC One and the BlackBerry Z10.
The results were interesting in the last battery test, the charging speed. The iPhone 5 was proved to be the quickest handset to charge, with a charging speed of 141 minutes only to reach full battery.