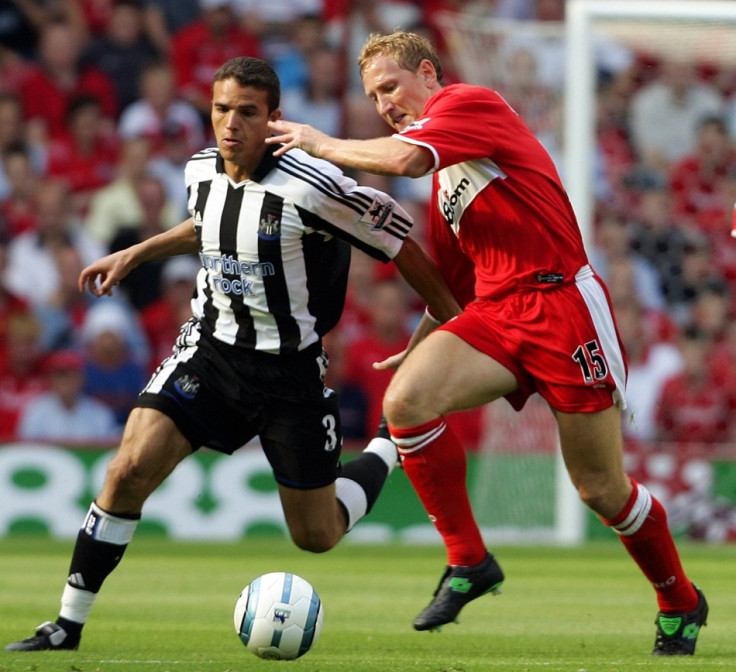 Former Newcastle United winger Laurent Robert has praised the Premier League club's recent investment in French talent, claiming the Gallic flair of players like Yohan Cabaye and Hatem Ben Arfa have been integral to their unbeaten start to the season.
Alan Pardew's Newcastle United side have been the surprise package of the Premier League so far, embarking on an unbeaten run of 11 league games to take them into their daunting set of fixtures that include games against Manchester City, Manchester United and Chelsea, with a healthy sense of optimism.
Pardew, largely on the recommendation of their chief scout Graham Carr, has plucked a number of hugely talented, if previously obscure or out-of-form individuals from French football since his arrival at Newcastle United in December 2010.
Ben Arfa, Cabaye, Sylvain Marveaux and Gabriel Obertan have all reinvigorated their careers at St James' Park and in doing so have propelled Newcastle United to the lofty heights of third in the Premier League table.
The four former Ligue 1 stars are also joined by French speaking Demba Ba and Cheik Tiote, from Senegal and Ivory Coast respectively, and one of Newcastle United's former French stars suggests the club are reaping the benefit of their French connection.
"I saw Yohan Cabaye two weeks ago when he came to play for the national team. I spoke to him and he really likes it at Newcastle.
"He knows the fans like him." Laurent Robert told The BBC.
In addition to Cabaye, Hatem Ben Arfa is making gradual strides to full form and fitness following the horrific injury he sustained whilst initially on loan at the club last season. Robert believes Ben Arfa's move to Newcastle has been the making of him.
The former Newcastle United star, who made 110 appearances for the club between 2001 and 2005, said: "He's (Ben Arfa) a player who likes to win. Newcastle was the best thing that could have happened.
"He's now confident, has a good relationship with his manager, and it's great for the player."
Robert believes his compatriots are excelling in the north east of England because they have all helped each other settle in. The former winger claims his time at Newcastle was the most enjoyable of his career because like the current French contingent, he had others to help him bed in at St James' Park.
"I played for four years at Newcastle and it was the best time of my career," Robert said.
"When I played, I had Sylvain Distin and Olivier Bernard. We had three French players and the communication was very important."
Whilst Newcastle United's flying start has been hugely commendable and an obvious endorsement of their clearly defined transfer policy, some have suggested the next set of fixtures will provide the club with a heavy dose of realism.
Trips to Manchester City and Manchester United followed by a home game against Chelsea may well provide a sterner examination of Cabaye and the others aforementioned, but Robert feels Newcastle's form is not a temporary thing.
Robert said: "I don't believe the standard of their play will drop,
"The weather and cold doesn't matter. In Lille the winter weather is just like it is in Newcastle!"
The man widely credited for Newcastle United's sudden influx in Gallic talent, Graham Carr, believes the close proximity of France and more importantly, months of meticulous scouting, is beginning to bear fruit for the club.
Carr told the People: "It's easy to get to northern France because only 60 miles from Calais are three teams, Lille, Lens and Valenciennes, and you find that you can take in two or three matches with one visit.
"Like Yohan Cabaye, Ben Arfa is a full French international and he is obviously a good ­player. We got a tip-off and we moved in ­quickly to get him first on loan.
"I've been ­watching Cabaye since he was 18. I liked him so much I asked Chris Hughton to come along with me when he was boss to watch him. But the asking price by Lille was then £10m, which was out of our reach.
"We heard he had a get-out clause and again that was all we needed.
"Then there is Sylvain Marveaux. We had been monitoring him for 10 months and we had a meeting on the Quayside in Newcastle and it was decided to go for him."