Outspoken former MP George Galloway had a mysterious glittery powder thrown over him as he gave a talk at the University of Aberdeen on Tuesday (22 November).
The incident, which is captured on video footage obtained by The Mirror, begins as Galloway is preparing his speech. Some protesters approach the stage and gold and green powder is projected all over the politician, drawing shocked gasps from the audience. As the protesters are bundled from the room, a cross-sounding woman can be heard asking "who did that?"
It is thought that the Respect Party leader was "glitterbombed" by suspected "trans anarchists" and said he felt unwell for a while after swallowing some of the powder.
Galloway later said on Twitter that his pregnant wife had jumped forward to protect him. "Someone calling themselves "Trans" and an "anarchist" led a five person attack on me on the platform at Aberdeen University. I continued."
He added: "I know have an unknown substance in my eyes and lungs and feel a little unwell. But the struggle continues:-)"
It is unclear who attacked Galloway or why, but the politician is known for making controversial statements, particularly regarding Palestine and Israel.
When MP for Bradford West, he said that Israeli nationals would not be welcome in his city. In 2014 he was attacked by Neil Masterson in London, who accused him of being antisemitic - an accusation he has consistently denied.
Most of the audience present at the Aberdeen University talk appeared angry with the protesters, and used social media to air their disgust. Ruaraidh Swainson tweeted: "So sorry about what happened. I was in the audience and I was utterly appalled by what they did! I hope you are OK."
Another student, Ryan Houghton, told the Press and Journal: "Basically we had six individuals who were sat at the front row after having security checks done. But as George started speaking they stood up and lobbed three jars of glitter over him. He was covered, and students intervened.
"He just continued as normal, dusted off the glitter and kept going. He's taking questions and stuff. He got a round of applause when someone apologised on behalf of the students."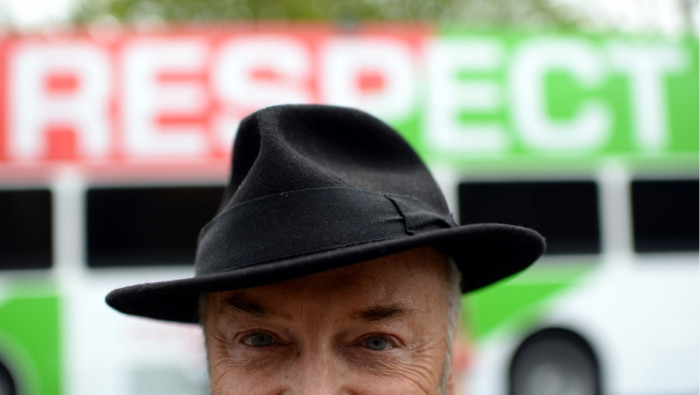 Galloway complained to police about the incident and they confirmed they would look into it. Quoted by the BBC a Police Scotland spokesman said: "Inquiries are at an early stage and no further details are available at this time."