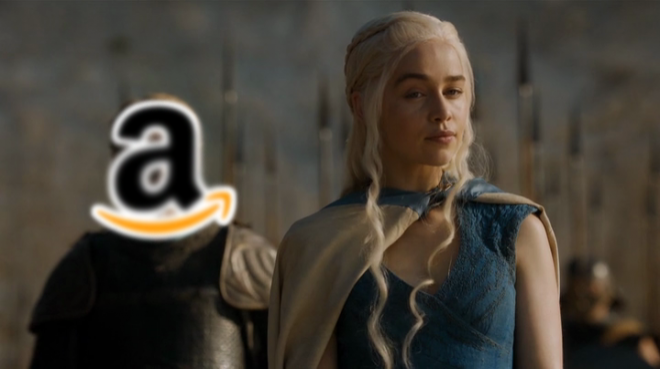 HBO is to make its critically acclaimed back-catalogue available to Amazon Instant Prime users in the US.
There is no mention of hit fantasy epic Game of Thrones in Amazon's press release, but it may well fall under the bracket of recent shows that won't be available until 3 years after they have first aired. These shows include Girls, Veep and The Newsroom.
There is still a lot of quality coming to the service on 21 May, however. US Amazon Prime customers will be able to watch the likes of The Sopranos, True Blood, Band of Brothers, Deadwood, and The Pacific through Amazon's instant video service.
In addition to this, HBO GO – the TV company's live streaming service – will be made available on Amazon Fire TV by the end of the year.
The deal makes Amazon the exclusive distributor of HBO programming within the US outside of HBO themselves.
Brad Beale, Amazon's director of content acquisition says: "HBO has produced some of the most ground-breaking, beloved and award-winning shows in television history.
"Now Prime members can enjoy a collection of great HBO shows on an unlimited basis."
The deal won't extend to the UK, however, due to HBO's deal with Sky to air its programming on the Sky Atlantic channel, which ends in 2020.
Here are the shows mentioned in Amazon's press release.
– All seasons of revered classics such as The Sopranos, The Wire, Deadwood, Rome and Six Feet Under, and of recent favorites such as Eastbound & Down, Enlightened and Flight of the Conchords. Update: Oz too.

– Epic miniseries, including Angels in America, Band of Brothers, John Adams, The Pacific and Parade's End

– Select seasons of current series such as Boardwalk Empire, Treme and True Blood

– Hit original movies like Game Change, Too Big To Fail and You Don't Know Jack

– Pedigreed documentaries including the Autopsy and Iceman series, Ghosts of Abu Ghraib and When the Levees Broke

– Hilarious original comedy specials from Lewis Black, Ellen DeGeneres, Louis CK and Bill Maher

– The multi-year deal will bring additional seasons of the current series named above, along with early seasons of other series like Girls, The Newsroom and Veep to Prime members over the life of the deal.